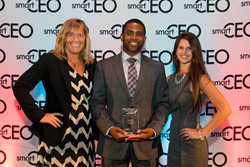 Our team members are happier, more energized and motivated to provide the best customer experience.
HUNT VALLEY, Md. (PRWEB) October 12, 2016
CARCHEX, the industry-leading provider of direct to consumer automotive products and services is pleased to announce that it has been named the healthiest company in Baltimore (for companies with 50 – 149 employees).
Shortlisted from hundreds of applicants, CARCHEX was one of five businesses celebrated as Baltimore's most healthy companies at the 2016 SmartCEO Healthiest Company Awards.
"It's great to see the CARCHEX Workplace Wellness Program receiving industry recognition," said Jason Goldsmith, CEO of CARCHEX. "We have a Director of Wellness and personal trainer on staff and the program is continually evolving and now offers employees massages, yoga classes, a gym, boot camp style fitness classes and healthy, organic vending machines and free organic beef jerky."
"Not only does this provide a healthier work environment and a better work/life balance for employees, but our focus on our team members' wellbeing translates into a better service for our customers. Our team members are happier, more energized and motivated to provide the best customer experience."
"This year's healthiest companies are serious about creating programs that provide employees with the resources they need to enrich their well-being. Simply put, by investing in employee wellness, these companies are investing in their own success," says Jaime Nespor-Zawmon, president of SmartCEO. "SmartCEO is thrilled to shine a spotlight on the companies that are leading a movement toward healthier and happier workplaces."
People interested in a career at CARCHEX and who are looking to join a winning team should visit CARCHEX Careers for more information.
About CARCHEX
CARCHEX is the premier provider of direct-to-consumer automotive products and services including auto warranty, pre-purchase inspections, auto insurance and auto financing. The company serves as a consumer advocate throughout all stages of the car buying, selling and ownership process. Protecting automotive consumers for over 16 years and providing exceptional customer service has translated into an A+ Rating with the Better Business Bureau. For more information about CARCHEXCare Vehicle Protection plans and For A Smarter Way to Do Car visit http://www.CARCHEX.com.
Contact:
Amrit Nijjer
Abel Communications for CARCHEX
amrit(at)abelcommunications(dot)com
443-895-5729
About the Healthiest Company Awards
The Healthiest Company Awards program honors companies that have demonstrated a commitment to their employee populations through health and wellness programs. Through these programs, today's health-conscious companies are not only investing in the strength of their businesses' futures but also the futures of employees and their families. An independent committee of local business leaders selects finalists based on engagement, effectiveness and ROI. SmartCEO shares the finalists' inspiring stories in the September/October issue of SmartCEO magazine and celebrates their success at an awards reception in September where the winners will be announced live.
About SmartCEO
SmartCEO's mission is to educate and inspire the business community through its award winning magazine, connections at C-level events and access to valuable online resources. SmartCEO's integrated media platforms reach decision makers in the Baltimore, New York, Philadelphia and Washington, DC, metropolitan areas.