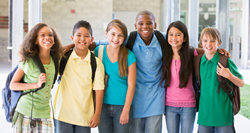 School safety, social media, suspension alternatives, transgender youth and mental health are among the leading issues impacting today's kids.
Westlake Village, CA (PRWEB) October 13, 2016
Sprigeo is proud to introduce, "The Westlake", a first of its kind, 3-day event that will bring together 10 of the most highly regarded middle school principals from around the country to discuss the most relevant challenges currently facing their students. Unlike traditional conferences, The Westlake gathering will engage participants in ongoing conversations designed to generate unique insights and solutions that will become the guide for leaders nationwide. The gathering will be facilitated by Jason Womack, internationally recognized speaker, author and leadership trainer.
School Safety, Social Media, Suspension Alternatives, Transgender Youth and Mental Health Issues will headline the list of topics for discussion over the 3-day event.
The Westlake participants were selected after a nationwide nomination process. Sprigeo CEO, Joe Bruzzese shared his enthusiasm for the Westlake gathering, "The principals who are attending the Westlake gathering are truly among the best leaders we have at the middle school level. Bringing this group together will result in new insights on the most challenging issues facing today's middle school students. I look forward to the knowledge that each participant will bring to the event. It's truly a privilege to host this gathering."
Sprigeo provides tip-line services and school safety resources to over 4,500 schools across 28 states in an ongoing effort to prevent bullying and promote school safety. Over the past 6 years Sprigeo has been fortunate to have built relationships with school leaders and nationally recognized trainers that have shared strategies and expertise with their growing network of school districts.
The Westlake gathering will be held October 11-13 at the Four Seasons Resort in Westlake, California.