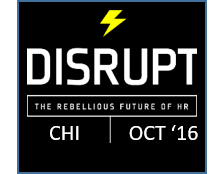 Chicago, Illinois (PRWEB) October 13, 2016
For the second time this year, the wildly popular DisruptHR Chicago event brings some of the area's boldest and most innovative minds to the stage for a rapid-fire, ignite-style evening of vocally and visually provoking presentations that will challenge the tired practices of management now older than the city in which we live. Eleven speakers will have five minutes each to wow; but they'll do it while twenty slides advance automatically every fifteen seconds. It's energetic, if not frenetic. Eric Doctors, SVP of Leadership and Organizational Development for Leo Burnett and recent DisruptHR Chicago attendee says, "disruption is an organic force that can introduce change that is totally relevant and leap over all those reasons not to change. This event is advancing the profession of human resources in a way most cannot."
The fall event will be held on October 19, 2016, at 5:30 pm at Chicago's very own innovation-headquarters, 1871. Our stellar speaker lineup includes leaders from amazing organizations like Ann and Robert H. Lurie Children's Hospital of Chicago, McKinsey & Company, kCura, and ITW, and high-growth Chicago start-ups like CANDID Cup, Jellyvision, and improve it! LLC. Tickets for this event are sold-out, but a wait list is available for those who are interested in learning about the next one. And all are welcomed to follow along on Twitter via the #DisruptHRChi stream.
DisruptHR Chicago is an information exchange designed to energize, inform and empower executives, business leaders and professionals in the vast and important fields of Human Resources. We are about challenging the norms to which we've fallen prey, innovating, and creating a more meaningful, rewarding, and engaging experience from this thing called work. "I remain impressed, but not surprised, by the level of excitement and energy our community has shown toward really hacking away at the boundaries and barriers of the traditional workplace," says DisruptHR Chicago Co-Founder, Nicole Dessain. This effort requires a community. And that community is making a real difference.
About DisruptHR Chicago, LLC
Co-founded in 2016 by Chicagoans Nicole Dessain, Charlie Judy, and Nancy Harris as a Not-for-Profit dedicated - through education, knowledge-sharing, and networking - to the advancement of those professionals at the center of making work, the workplace, and the workforce better, DisruptHR Chicago is a tax-exempt, publicly supported organization under Sections 501(c)(3) of the IRS Code, and is incorporated and registered in Illinois. To learn more visit http://www.disrupthr.co/chicago, or call us at 314.368.0683.