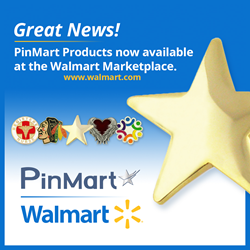 "We are thrilled to work with Walmart on the launch of our first 1,000 products on the Walmart.com marketplace."
(PRWEB) October 18, 2016
PinMart, the leading lapel pin manufacturer, is excited to announce their first 1,000 products launched with Walmart.com. Being as both companies are the largest in their respective sectors, it was a natural fit for the two to join forces.
PinMart's Marketplace Team Leader Victoria Moon, who played a major role in uploading all of PinMart's products to the Marketplace said, "We are thrilled to work with Walmart on the launch of our first 1,000 products on the Walmart.com marketplace". PinMart already sells it's branded merchandise in other marketplaces like Amazon, eBay, and Rakuten; adding Walmart was a natural progression.
Moon went on to say, "With over 80 million unique visitors who shop on Walmart each month, this allows us to extend PinMart's customer base and make a significant impact on our Marketplace business. Very soon, we will have our entire, and forever growing stock line listed and ready for action on Walmart!"
Walmart's Marketplace is quickly expanding its product assortment thanks to a growing number of outside merchants like PinMart that sell on its website and app.
About PinMart:
PinMart, Inc. is a privately held company located in Elk Grove Village Illinois, a suburb of Chicago, specializing in the design and manufacturing of stock and custom emblems, custom lapel pins, and recognition and awareness products. PinMart sells products via its online store and offers custom design and manufacturing. PinMart has taken advantage of its well positioned internet presence and now boasts a client list that includes over 300 of the Fortune 500 companies.
For more information about PinMart, Inc., call 1-877-PINMART or go to http://www.pinmart.com.
About Walmart.com
As one of the largest online retailers in the world, Walmart has surpassed its competition. Walmart's online marketplace, which launched in 2009, has significantly expanded Walmart.com's online product selection with additional new products, leading brands and added convenience.