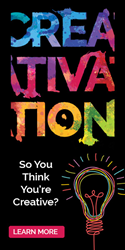 "We want to bring that extraordinary idea that popped into someone's head one day – that idea that has the potential to create significant sales or change the way we manufacture or sell a product – to life." Mark Hill, President and CEO, CHA
Elmwood Park, NJ (PRWEB) October 12, 2016
The Craft & Hobby Association's (CHA) will launch its Innovations Center and "The Ultimate Pitch" Contest at Creativation, the premier creative arts industry event at the Phoenix Convention Center January 21-23, 2017. Creative entrepreneurs are invited to apply to exhibit their never-before-seen product, idea, trend, method, technique or device in the Innovations Center. The top 25 candidates selected to exhibit will gain exposure to major retail chains, distributors, manufacturing or marketing companies, and could be chosen to participate in "The Ultimate Pitch" contest for the chance to win $10,000.
"Innovation is something that adds value, meets a demand, and has the potential to impact an industry and the world," says Mark Hill, President and Chief Executive Officer, CHA. "We want to bring that extraordinary idea that popped into someone's head one day – that idea that has the potential to create significant sales or change the way we manufacture or sell a product – to life."
A panel of leaders from the creative industries will choose five exhibiting innovators to pitch their brainchild during "The Ultimate Pitch" contest, a highly marketed Creativation event. Each innovator will get five minutes to pitch their innovation and five minutes of critique from the judges. One innovation will be awarded a cash prize of $10,000 and launched as the Top Creative Innovation of 2017.
To qualify, an innovation must have never been released in brick-and-mortar or online stores prior to January 21, 2017. Candidates must be able to display a working prototype or final sample of the innovation for an experimental display and be present to exhibit at Creativation from January 21-23, 2017 at the Phoenix Convention Center in Phoenix, AZ. Also, candidates must at least 18 years old on the date of commencement of the program, and provide a valid mailing address or email upon entry to be considered eligible entries.
The submission deadline is Monday, October 31, 2016 at 11:59pm ET. To enter and receive more information, visit http://www.CreativationShow.org.
ABOUT THE CRAFT & HOBBY ASSOCIATION
The Craft & Hobby Association (CHA) is an international non-profit trade association consisting of thousands of member companies engaged in the design, manufacture, distribution and retail sales of products in the worldwide craft and hobby industry. For more information about CHA, membership or its Creativation Show, visit http://www.craftandhobby.org.