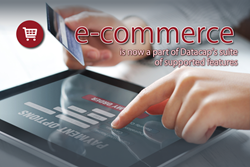 We're excited to add a multi-processor, out-of-scope ecommerce solution so that our partners can offer a seamless omnichannel experience to their merchants with little to no development on their side.
Chalfont, PA (PRWEB) October 13, 2016
Datacap Systems, leading integrated payments provider, now provides a multi-processor ecommerce platform for Point of Sale integration partners. Leveraging Datacap's industry-standard NETePay™ integration, POS providers can tie ecommerce transactions to new and existing brick and mortar installations or drive stand-alone ecommerce applications through a simple out-of-scope JavaScript tie-in.
Like Datacap's in-store solutions, the new ecommerce functionality supports a variety of payment processors while insulating the merchant and Point of Sale provider from sensitive cardholder data. Cross platform tokens enable seamless processor changes and syncing of online and in-store payments.
"Datacap has been primarily focused on enhancing the payments experience for brick and mortar merchants by providing POS integration partners with reliable payments solutions supporting an industry-leading feature-set, says Justin Zeigler, Head of Product Strategy at Datacap Systems. "We're excited to add a multi-processor, out-of-scope ecommerce solution so that our partners can offer a seamless omnichannel experience to their merchants with little to no development on their side."
Contact Datacap to learn more - http://www.datacapsystems.com/contact-us
About Datacap Systems
Datacap Systems celebrates 33 years of successfully designing, manufacturing and marketing innovative integrated payment solutions for any Point of Sale. One simple interface allows Point of Sale developers to keep pace with evolving trends and payment industry standards, so they can spend development dollars on POS innovation rather than integrated payments. Because we sell our products exclusively through authorized POS resellers, merchants receive high-end payment solutions coupled with top-tier installation, service and support. Integrated payment solutions from Datacap are utilized by hundreds of POS applications in an array of vertical markets. http://www.datacapsystems.com