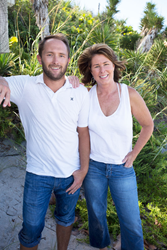 West Palm Beach, FL (PRWEB) October 13, 2016
Grace's Way Recovery of West Palm Beach, Florida, relocated almost 40 patients to the west coast of Florida during hurricane Matthew. In a move that represents the concept of putting patients first, the dedicated employees of the drug and alcohol rehabilitation program took it upon themselves to move everyone to safety to ensure their care could be continued as the hurricane threatened the Atlantic coast of Florida.
One family clinician, Dr. Salima Patel, at Grace's Way Recovery stated "Our owners spared no expense to evacuate staff and all patients over to the West Coast to safety. We rented large homes to accommodate all our patients in gender specific residences to ensure their safety and continuity of care." She continued to say "We know that our patients are vulnerable and we want to give them every opportunity to continue their path of success."
Grace's Way Recovery was opened by Bernie Schultz, a mother who knows first hand what it is like to deal with a son dying from addiction. Schultz's son's recovery convinced her to walk away from a thriving real estate business and begin her "passion project" of helping not only her son but other families who were suffering through the same ordeal. Today she is fortunate to have her son, former all-star lacrosse player, by her side as her business partner. David has taken Grace's Way Recovery beyond his mother's vision with his sharp business acumen and fortitude.
In the volatile addiction field, Grace's Way Recovery embodies a care and compassion for each patient that is rare. Schultz's love for her son and understanding of addiction reflects in the facility's program, and in their actions, such as spending their own money to relocate clients with no expense spared.
Patients and their families had understandably been concerned about the storm in the days leading up to it, and what it would mean for the continuum of care. Now, they are breathing a sigh of relief. "I am now getting a barrage of text messages and letters from grateful family members all over the country." said Dr. Patel. "National treatment programs who refer to us are also so warmed with the path we have chosen - actually putting our patients first."
All of Grace's Way Recovery's patients were successfully transported to, and housed on the west coast of Florida for three days while the storm battered the east coast. While South Florida escaped the wrath of Matthew fairly unscathed, the small, family-owned business preferred to be over prepared than to jeopardize their patients safety. Grace's Way Recovery accepts both male and female patients, and they were housed separately during their stay on the west coast. Everyone has since returned safely, and Grace's Way Recovery is back to business as usual.