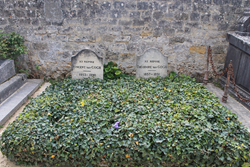 "It is a great honor to join Dominique in this project. To restore this site and the peaceful rest of the brothers is in many ways the greatest gift that lovers of Van Gogh can give him in thanks for his legacy in the world of art."
New York, NY (PRWEB) October 13, 2016
Fifteen miles outside of Paris, in the village of Auvers-sur-Oise, is the final resting place of Vincent and Theo Van Gogh – brothers famously devoted to one another in life. Yet, in the aftermath of extensive flooding in October 2015, these monuments of the art world, visited by a quarter million individuals from around the world each year, are crumbling due to water infiltration.
The Institut Van Gogh, a French nonprofit organization dedicated to preserving the culture and memory of Van Gogh during his time in Auvers-sur-Oise, is announcing its intention to raise $1.4 million, in partnership with Faircom New York, to preserve this important site for generations.
In the words of Institut Van Gogh President Dominique Janssen, "Van Gogh gave so much – artistic treasures beloved and admired by millions – to everyone. For the first time, people can do something for him." Faircom New York is proud to be partnering with Dominique and the Institut Van Gogh as we give back to one of the world's most talented and revered artists.
Van Gogh spent his final weeks in Auvers-sur-Oise, producing nearly 70 of his most recognizable oils. It was at the local village inn that he shot himself. Upon the news of his attempt, Theo rushed to his brother's side, spending two days with Vincent before he passed away.
Today, the inn is known as the House of Van Gogh, the permanent site of the Institut Van Gogh and the world's smallest museum – Van Gogh's room number five, measuring only seven square meters. Faircom New York has worked with the Institut Van Gogh previously to raise funds around other restoration efforts.
Building from a mandate to preserve Van Gogh's final home and the artist's legacy in Auvers-sur-Oise, the funds raised by the Institut and Faircom New York will repair the brothers' gravesite, as well as the roof, frame and foundation of the neighboring church, the subject of Van Gogh's June 1890 painting The Church at Auvers.
In considering the significance of this endeavor, Janssen explains: "In his own life, Vincent struggled but was sustained in his path as an artist by his brother. This was the central relationship of his life, and their closeness led Theo's wife to reinter him alongside his brother in Auvers. She understood very clearly how important it was that the brothers, in her words, 'rest side by side in the little cemetery amid the wheat fields of Auvers'."
Corinne Servily, Founder and President of Faircom New York, state: "It is a great honor to join Dominique in this project. To restore this site and the peaceful rest of the brothers is in many ways the greatest gift that lovers of Van Gogh can give him in thanks for his legacy in the world of art."
Institut Van Gogh is a non-profit organization created in 1987. Working alongside a world-wide network of experts in the museum field, the Institut works to conserve the Auberge Ravoux and the cultural program relating to Van Gogh's room, preserve the environment of Auvers-sur-Oise which inspired the last masterpieces of the artist, and support research on the life of Van Gogh.
Faircom New York is an international fundraising and marketing agency that works with nonprofit organizations of varying breadth, depth, mission and size. With over 20 years of experience in fundraising and marketing, Faircom New York is committed to helping charitable organizations extend their reach through an integrated and innovative approach.
For press inquiries, please call Faircom New York at 212.727.3