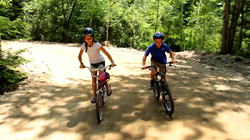 Calypso was able to bring a fresh, creative perspective
Portsmouth, N.H. (PRWEB) October 13, 2016
Calypso Communications, an integrated creative and public relations agency, recently developed a video and targeted social strategy for Friendly Beaver Campground (FBC), a popular family-owned vacation destination in southern New Hampshire.
"We really wanted to showcase all of the wonderful amenities our campground offers," said Robert Charest, Friendly Beaver Campground. "Calypso was able to bring a fresh, creative perspective to help us build fun and engaging materials we'll use for years to come."
The short video Calypso created inspires adults and kids to reconnect with each other and nature by highlighting the adventurous and unique experiences families can enjoy at the FBC. Calypso's social strategy echoed this sentiment and engaged the Friendly Beaver community with content that could be liked, shared and promoted.
"Friendly Beaver Campground recognized the need to develop digital marketing assets to better communicate with its customers," said Mike Teixeira, SVP and Creative Director at Calypso. "By leveraging video and social media, we were able to develop innovative ways to share the campground's story with camping enthusiasts who are looking for enjoyable adventures in New Hampshire."
Calypso helps clients reach their target markets in innovative ways across a broad range of media, including video and social. The Calypso team has built videos for organizations such as Mt. Agamenticus and Fessenden Upper School, and developed comprehensive social strategies for companies like Unitil.
About Calypso Communications
Based in Portsmouth, N.H., Calypso Communications is a premier, award-winning strategic marketing, corporate communications, and business development consultancy. Highly sought after for its seasoned insight and perspective, Calypso effectively engages stakeholders crucial to driving business and value for clients in the energy, environmental, healthcare, and technology industries. For more information, visit http://calypsocom.com.
About Friendly Beaver Campground
Friendly Beaver Campground, southern New Hampshire's premier family-friendly camping destination in New Boston provides a personalized, activity-filled camping experience for the entire family. FBC has been voted Best Campground in New Hampshire by The Union Leader readers three years in a row.