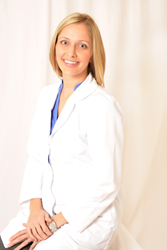 Jacksonville, FL (PRWEB) October 12, 2016
Dr. Kathryn E. Ryan, an experienced prosthodontist and provider of laser dentistry in Jacksonville, FL, is honoring Dental Hygiene Month this October by educating patients on how laser dentistry can help them transform their smiles and regain their oral health. Patients can turn to her at her office, Parkway Prosthodontics, to receive treatment with the BIOLASE Waterlase® MD laser for a variety of different conditions, without a referral from another clinician. As a provider that takes time to understand each of her patients' concerns, Dr. Ryan is determined to help as many people as possible experience optimum oral health.
The BIOLASE laser is one of the most advanced lasers used in the dental field today. This advanced tool allows Dr. Ryan to improve effectiveness and efficiency of procedures while also improving patient comfort. Because the laser is so gentle and minimally invasive, the need for anesthetics is often reduced or eliminated. This means patients feel less pain and their appointments take less time than before. As a prosthodontist with extensive experience in laser dentistry in Jacksonville, FL, Dr. Ryan understands that these are important benefits that can help patients be more inclined to receive the care they need.
Dr. Ryan provides a number of treatments using the BIOLASE laser. Some of the most common include osseous crown lengthening, gingivectomies, frenectomies, and infection removal. Many of these procedures are a part of the gum disease treatment process, while others are cosmetic in nature. Since the laser speeds up treatment, patients can receive all the care they need in one simple visit instead of multiple visits over a period of weeks or months.
Patients in need of an experienced prosthodontist who offers laser dentistry in Jacksonville, FL can contact Dr. Ryan for more information or to schedule an appointment by calling 866-902-7651.
About the Doctor
Parkway Prosthodontics is a prosthodontics practice located in Jacksonville, FL. Dr. Kathryn E. Ryan specializes in prosthodontics, esthetic and implant dentistry. She holds a Certificate of Specialty in Prosthodontics and a Master of Science Degree from Marquette University School of Dentistry, and is a Fellowship trained in implant surgery from the University of Florida College of Dentistry. Dr. Ryan is a member of the American Dental Association, International Team for Implantology, Northeast District Dental Association, among others, and participates in the Jacksonville Dental Society Study Club, Beaches Study Club and Jacksonville Women's Dental Society Study Club, to name a few. Dr. Ryan and her team are committed to providing patients with quality care using state- of-the art techniques and equipment. To learn more about Parkway Prosthodontics and the services they offer please visit their website at http://www.parkwaypros.com or call (866) 902-7710 to schedule an appointment.