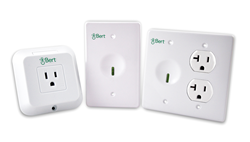 Bert® Auditor and Installer ensure an accurate and rapid implementation of the Bert® Plug Load System
King of Prussia, PA (PRWEB) October 18, 2016
Best Energy Reduction Technologies, LLC (BERT), the leading supplier of Wi-Fi based plug load management systems, announces immediate availability of the Bert® Mobile Support Toolkit, a complete suite of cloud-based mobile applications that fully automates the entire plug load implementation process from audit to installation. The cloud-based toolkit is designed to assist BERT's partners including ESCO's, lighting subcontractors, and other installation partners by substantially increasing the speed and accuracy of the plug load audit and installation of the Bert® Plug Load Management System. The Toolkit also provides detailed time-stamped records in the cloud including room by room audits and installation data that can easily be viewed by performance contractors, installers, BERT support and end-users.
About Bert® Mobile Support Toolkit
The toolkit includes Bert® Auditor which records plug load devices by room and building while simultaneously evaluating Wi-Fi coverage. Using the audit information, the Bert® Toolkit automatically generates a detailed savings sheet by device for each building. Once the installation begins, Bert® Installer records the location, device type, and MAC address for all installed Berts. Since the system is cloud-based, the Bert support team can remotely monitor and support partner installations and verify network connectivity as the Berts are being installed. Both Bert® Auditor and Installer run on iOS and Android using Google Drive™ online storage service.
"We've been able to reduce the learning curve and effort for our partners by creating a tool that guides them through the audit and installation process. We've also been able to minimize rework since our support team can immediately identify any issues while the Bert® equipment is being installed. At the end of the project, our partners and end users have a detailed audit and installation record which identifies the device type, location, and building for every Bert, says Scott Yetter, CEO of Best Energy Reduction Technologies LLC."
About The Bert® Plug Load Management System
Offering an unparalleled combination of functionality and flexibility, the Bert® Plug Load Management System significantly lowers plug load energy costs using a facility's existing Wi-Fi network. By simply plugging vending machines, printers, copiers, water coolers, projectors, coffee machines, etc. into the Bert® Smart Plug series or wiring circuits with the Bert® Inline Series, commercial buildings can remotely measure and control lighting and plug loads at both the outlet and circuit level for loads ranging from 120V/15A to 277V/20A. Bert® provides mass remote control so each building, group of buildings, device type or other groups can be scheduled off during nights, weekends and holidays when buildings are unoccupied. Bert® Measurement adds real-time measurement data and historical power usage by hour, day, month, year and user-defined time-period. Bert® Threshold provides special threshold intelligence to protect sensitive equipment such as compressors and projectors from turning off before completing their shutdown cycle. Bert® Temperature provides a cost-effective method to remotely monitor, record and control temperature throughout a building.
The Bert® system installs quickly so energy savings are immediate and payback is typically between 1 and 6 years. Because of the rapid payback, the system is often included in performance contracts from Honeywell, Johnson Controls, McKinstry, Noresco, Siemens, Schneider Electric, Trane and Energy System Group.
Learn more about how K-12 schools, colleges, offices, hospitals, state/local governments and retailers are managing plug load and saving energy with the Bert® Plug Load Management System by visiting http://www.bertbrain.com.