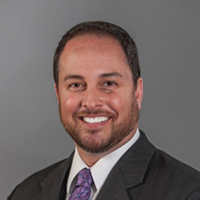 "Sean has made significant contributions as a partner in the firm, and we are excited to have him in this new role." Paul King, CEO and Chairman of the Board.
(PRWEB) October 26, 2016
DoctorsManagement, a full-service medical practice management and regulatory compliance consulting firm focused on the business of medicine for hospitals, health systems and physician practices, announced the appointment of Mr. Sean M. Weiss, DoctorsManagement Partner, to the Strategic Business Development Division effective September 1, 2016. Reporting directly to the Board of Directors, Mr. Weiss will be responsible for the continued organizational growth and the DoctorsManagement brand.
"Sean has made significant contributions as a partner in the firm, and we are excited to have him in this new role. Sean's experience is ideally suited for driving our brand and partnerships forward, leveraging business development opportunities to unlock value from our unique full-service position in the healthcare industry," said Mr. Paul King, CEO and Chairman of the Board. "Sean's industry experience includes strategic and cross‐functional expertise and an understanding of the industry that will add significant value as we build for the future. I am looking forward to working closely with Sean to continue growing our brand and positioning ourselves to better serve our clients and partners," said Mr. King.
Sean and the DM team of coding and compliance experts work with large and small healthcare practices that have been targeted by federal (Medicare), state (Medicaid), and commercial insurance payers. The team delivers measurable financial results while helping clients reduce their risk of non-compliance with government agencies and focus their efforts on providing quality care to patients. Clients benefit from his knowledge of the inner workings of federal and state agencies such as the Office of Inspector General (OIG), Department of Justice (DOJ) and the United States Attorney's Office. Agencies such as the OIG routinely contact DoctorsManagement for guidance on interpretation of complex Medicare guidelines, regulations and statutes and on methodologies for structuring studies to be conducted.
"I am truly pleased with the new initiative I've been tasked with in this leadership role. As a partner and during the past 18 months, I've had the opportunity to observe the rapid growth and maturity of the company's pipeline of innovative and targeted programs including ComplianceRiskAnalyzer, DoctorsLegal and NAMAS. I believe this is the ideal time to engage in a more active role in shaping the future of the company. The opportunity to work closely and collaboratively with the DoctorsManagement senior leadership team, our employees and key partners to realize the broad potential of the company's growing lines of service from our underlying proprietary technology platform is very exciting," said Mr. Weiss.
About DoctorsManagement, LLC
A full-service consulting firm focused exclusively on the business of medicine, DoctorsManagement helps clients reduce compliance risks, increase profits, and improve employee morale and patient satisfaction.