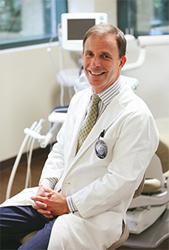 Winston-Salem, NC (PRWEB) October 12, 2016
Dr. Kenneth A. Peavy now offers modern gum grafting techniques to treat gum recession, as an alternative to traditional more invasive alternatives. Dr. Peavy is a respected periodontist in Winston-Salem, NC who is on the forefront of his field for leading, minimally-invasive treatments.
Gum grafting is a technique that restores missing tissues that cover tooth roots. This procedure strengthens the gum line, improving longevity of patients' teeth and reducing tooth sensitivity. Traditional gum grafting treatment involves harvesting tissue directly from patients' mouths creating a separate surgical site that requires additional healing and that can lead to post-operative complications including bleeding, swelling, and pain. In general it is only safe to harvest enough tissue to treat two or three teeth at a time which means multiple visits, treatment sites and medications and more time away from normal activities. Dr. Peavy utilizes collagen from human donors called Alloderm or collagen from porcine donors in order to treat multiple teeth at one convenient visit. These materials have been used in medicine and dentistry for over 20 years and have a long history of effective results.
To further enhance the healing process, Dr. Peavy also uses platelet rich plasma (PRP) to prepare the grafts and accelerate the amount of time needed for healing. PRP is made from taking a small blood sample from the patient and using blood platelets to accelerate and enhance healing after surgery. Dr. Peavy and his staff collect and prepare the PRP in their office and combine it with the donor graft materials to improve the outcome of each case.
Combining PRP, the donor grafts, and use of conservative gum recession procedures including the Chao Pinhole® Surgical Technique (PST), Vestibular Incision Subperiosteal Tunnel Access (VISTA), or the No Hole Tunnel (NHT) technique, in combination with sedation dentistry and local anesthesia, now makes treating gum recession a relaxed, minimally painful, and predictable procedure.
To schedule a consultation with Winston-Salem, NC periodontist, Dr. Peavy, patients can now call his cutting-edge practice at 336-774-3001. Dr. Peavy understands that patients may be concerned about their gum grafting procedure, which is why he offers state-of-the-art techniques for a comfortable and convenient experience.
About the Doctor
Dr. Kenneth Peavy is a periodontist offering personalized dental care for patients in Winston Salem, NC, since 1996. Dr. Peavy completed his undergraduate studies at the University of North Carolina at Chapel Hill. He earned his dental degree at the Medical University of South Carolina in 1989, College of Dental Medicine. He finished his residency program in General Dentistry at the Medical College of Georgia and his certificate in periodontics at the Medical University of South Carolina. He also earned his Master's Degree in Health Sciences. Dr. Peavy joined an exclusive group of doctors to offer The Pinhole Surgical Technique (PST™) for gum recession treatment. To learn more about Dr. Peavy and his dental services visit his website at http://www.happygumshop.com and call (336) 774-3001.