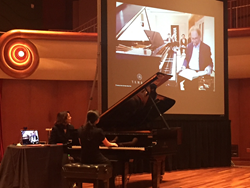 "This event puts Schwob School of Music next to the leading institutions in the nation, and offers our students an unparalleled opportunity to study with, and share their talent with, the world's leading musicians," said Alexander Kobrin.
Columbus, Ga. (PRWEB) October 17, 2016
In an historic event attended by fascinated audiences separated by nearly 1,000 miles, Boris Slutsky, chair of the Piano Department at Peabody Conservatory (Johns Hopkins), conducted the first remote piano master class ever for music students at Columbus State University's (CSU) Schwob School of Music, live and in real-time, from Yamaha Artist Services in New York City.
The event was the first of four momentous Disklavier Masterclasses to be presented this school year by the Jack and JoRhee Pezold Division of Keyboard Studies at the Joyce and Henry Schwob School of Music, and Alexander Kobrin, the L. Rexford Whiddon Distinguished Chair in Piano and Artist in Residence at CSU.
The technological and pedagogical feat was accomplished using the school's new Yamaha Disklavier CFX concert grand piano, a unique, technologically advanced reproducing instrument capable of transmitting highly-nuanced performance data – i.e., the actual key strokes and subtle gradations of pedal movement – between similarly equipped instruments over the Internet. The grand piano was gifted in 2014 by Gail Greenblatt, who is graciously helping the school's students advance their piano studies using the highest musical standards available in the world today.
During Monday's session, Slutsky evaluated actual "live" performances by graduate and undergraduate students in real time as they played on the school's piano located at Legacy Hall on the school's Columbus, Georgia campus. As each student performed, Slutsky sat at a similarly equipped Disklavier in New York, intently watching the keys and pedals of the instrument recreate the students' pieces in real time.
After each performance, Slutsky generously offered advice to each of the students in Georgia while playing live on a Disklavier in their location remotely to visually illustrate his points. Both teacher and students conversed freely over video chat during the master class, performing back and forth to one another, as if they were in the same room.
"This event puts Schwob School of Music next to the leading institutions in the nation, and offers our students an unparalleled opportunity to study with, and share their talent with, the world's leading musicians," says Kobrin. "Our students are now able to connect – via performances, lectures and masterclasses – with schools, colleagues and world-renowned pianists located anywhere in the world."
According to Kobrin, this Yamaha Disklavier Remote Lesson masterclass between New York and Columbus, Georgia represents the ultimate evolution of a pedagogical exchange between a master musician and students. Schwob School of Music has now joined an elite, connected network of educational institutions, piano faculty and students sharing long distance lessons, masterclasses and concert broadcasts, as well as a unique library of recorded content that is all part of the Yamaha Disklavier Education Network.
"There is no doubt that the Disklavier at Schwob allows the school to present itself from the best perspective and to thus attract talented students from all over the world," said Kobrin. "This wonderful instrument possesses not only amazing technology, but it is a wonderful concert grand piano that any school in the nation would appreciate."
Three subsequent Remote Lessons at Schwob School of Music will be conducted by teaching artists on December 1, 2016 and on January 23 and March 27, 2017.
-End-
About Yamaha
Yamaha Corporation of America (YCA) is one of the largest subsidiaries of Yamaha Corporation, Japan and offers a full line of award-winning musical instruments, sound reinforcement, commercial installation and home entertainment products to the U.S. market. Products include: Yamaha acoustic, digital and hybrid pianos, portable keyboards, guitars, acoustic and electronic drums, band and orchestral instruments, marching percussion products, synthesizers, professional digital and analog audio equipment, Steinberg recording products and NEXO commercial audio products, as well as AV receivers, amplifiers, MusicCast wireless multiroom audio systems, Blu-ray/CD players, earphones, headphones, home-theater-in-a-box systems, sound bars and its exclusive line of Digital Sound Projectors. YCA markets innovative, finely crafted technology and entertainment products and musical instruments targeted to the hobbyist, education, worship, music, professional audio installation and consumer markets.