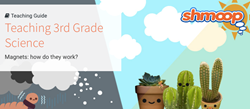 I am always looking for alternative ways to work with my students. Lo and behold, I came upon Shmoop and loved it.
Mountain View, California (PRWEB) October 13, 2016
Teaching elementary school isn't for the weak of heart. It requires an endless supply of energy, a never-ending store of stickers for positive reinforcement, and until now, countless hours of lesson planning.
Shmoop (http://www.shmoop.com), a digital publisher known for its award-winning test prep and certified online courses, has just released complete day-by-day lesson plans for elementary school language arts, social studies, and science (with math to follow shortly). From fully formed curriculum maps to daily lesson plans to an all-you-can-eat buffet of related videos and worksheets, Shmoop has taken care of all of the details so that teachers can can sit back, relax, and...teach.
Every lesson is packed with valuable, skill-building activities that teach the nitty-gritty while building up to bigger-picture concepts. Teachers can follow the course verbatim in its day-by-day progression or pick specific lessons by previewing the curriculum maps and seeing which standards, skills, or texts they'd most like to teach. Basically, Shmoop is like box of chocolates—but without the risk of ending up with a mouthful of cherry cordial.
"I am always looking for alternative ways to work with my students," says Rick Charvet, a teacher in Gilroy Unified School District in California. "Lo and behold, I came upon Shmoop and loved it. I always emphasized 'Kid Speak.'"
Each course is divided into themed units; each lesson features warm-ups, direct instruction, and guided and independent practice, along with worksheets, answer keys, ideas for differentiation and extension, and videos to boot. Because assessment is the name of the game these days, there are weekly quizzes every five lessons and the final lesson of each unit is a test, all with a downloadable answer key and answer explanations.
Shmoop's fun, challenging take on concepts will expand students' worldviews and teachers' sleep regimens. Elementary school teachers looking for a little help this year can subscribe to Shmoop at a low monthly rate, while schools and districts that want to treat their whole community to the goods can contact sales(at)shmoop(dot)com for bulk discounts.
About Shmoop
Shmoop offers hundreds of thousands of pages of original content. Their Online Courses, Test Prep, Teaching Guides, Learning Guides, and interactive Study Tools are written by teachers and experts and balance a teen-friendly, approachable style with academically rigorous concepts. Shmoop sees 15 million unique visitors a month across desktop and mobile. The company has won numerous awards from EdTech Digest, Tech & Learning, and the Association of Educational Publishers. Launched in 2008, Shmoop makes the magic happen from a labradoodle-patrolled office in Mountain View, California.