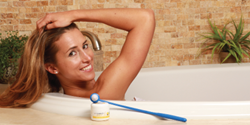 With our recent success in our national cable advertising campaign and the appearance of "Shiney Hiney Week" on the Ellen Show, we thought Groupon would be the perfect place
Netcong, NJ (PRWEB) October 13, 2016
My Shiney Hiney® LLC., the renowned brand for personal cleanliness products, is delighted to announce we are running a special sale on Groupon.
Groupon is dedicated to bringing new products to exceed the expectations of all it's customers, both consumers looking for great experiences at a great value and merchants seeking solutions to attract more customers and run their businesses better. Groupons deals and business tools connect the two in a seamless way that brings significant value to their customers lives.
"One of the biggest challenges we have faced in growing our brand has been simply making more people aware that we are out there," said owner and CEO, Ernie Peia. "With our recent success in our national cable advertising campaign and the appearance of "Shiney Hiney Week" on the Ellen Show, we thought Groupon would be the perfect place to reach a large customer base and give them a special deal to try our product."
Groupon is offering a special on four (4) different Intimate Area Cleansing Kits combined with our Citrus Ginger Cleansing Cream. Normally retailing for a combined price of $32.98 plus $4.99 shipping and handling, you can purchase the combination for $19.99 (a savings of 39%) or you can get our Lightening Cream, normally $24.99 plus $4.99 shipping and handling for $14.99 (a savings of 40%). To purchase one of these specials, click on the Groupon link here.
With six colors to choose from, the My Shiney Hiney© brush set is the perfect tool for rear-end personal hygiene needs. With two bristle options available, soft or medium, the brush heads are attached to an ergonomically designed curved applicator brush allowing for easy accessibility to even the most hard to reach personal places. The My Shiney Hiney© brush set comes with applicator brush, three soft or medium bristle replaceable brush heads, a suction cup shower holder and the finger brush for an even more intimate cleanse.
Also featured is the My Shiney Hiney© Cleansing Cream which was created to be used in combination with the My Shiney Hiney© brush set. By removing odors and impurities while also conditioning skin with moisture from its enriching formula, the My Shiney Hiney© Cleansing Cream will come in three unique scents: Lemon Verbena, Citrus Ginger and Passion Fruit.
The My Shiney Hiney© Whitening Cream is the final step to this comprehensive cleansing system. Blended with enhanced ingredients, My Shiney Hiney© Whitening Cream can be applied to fade and whiten dark skin for a more even complexion, all while conditioning and soothing the skin for a moisturized and calming effect.
For more information about My Shiney Hiney, please visit http://www.myshineyhiney.com.