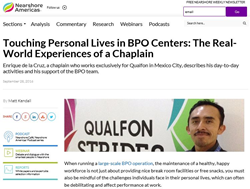 Chaplains are one of the lesser-known roles in large BPOs, but they play a vital role in both developing team members and supporting them through rough times outside of the workplace.
(PRWEB) October 19, 2016
Qualfon, a mission-driven business process outsourcing (BPO) company and global provider of contact center services, announced today that a recent Nearshore Americas article highlights the "lesser known" positions of BPO chaplains (like Enrique de la Cruz, Qualfon's Worksite Chaplain in Mexico City), calling them "vital role[s] in both developing team members and supporting them through rough times outside of the workplace."
Nearshore Americas, a leading business media and research organization, profiles Cruz's day-to-day work and Qualfon's interfaith chaplaincy program, demonstrating how chaplains can "touch the lives of employees" and ultimately "affect performance at work," the article states. Following in the footsteps of Cruz, the article sheds light on what work is like for a chaplain, but it also features chaplain training requirements as well as Cruz's unique approach in making peoples' lives better.
Cruz starts his day at the Qualfon interfaith chapel. "I stop here because it provides me with the serenity I need in order to provide care and assistance to the team. It's very important for me to be able to transmit this serenity to others," said Cruz in the article.
Read the complete Nearshore Americas article
Qualfon's Worksite Chaplaincy program has been implemented at contact centers around the world and with great success. In 2015, Qualfon chaplains performed more than 6,000 personal care sessions and roughly 500 visits to hospitals, funerals, and homes. Most Qualfon contact centers have a dedicated chaplain who has an office onsite and gets to know employees on a personal level. Chaplain care sessions are available 24x7x365 and offer guidance on issues such as relationships, stress, maintaining a healthy life balance, financial hardships, personal crisis, physical and substance abuse, as well as suicide and death. In addition to their years of experience, Worksite Chaplains receive extensive training and continuing education through the Qualfon Formation Center.
Using active listening skills, Cruz encourages Qualfon employees to open up about any problems so he can better understand their inner thoughts and experiences and support them both emotionally and spiritually. He then works to put together one-on-one care sessions, group workshops, personal counseling plans, life plan sessions, and more. His support extends into management too, helping leaders handle conflicts and enhance teamwork and decision making.
"Wholly and truly, healthy individuals can bring creativity and efficiency in their work, so we find the time to respond to their needs and foster sustained emotional wholeness. We are committed to know the lives of people and help them get through crises," said Cruz.
Chaplains and care sessions are seen as an important investment in employee health and happiness, and are provided through Qualfon's Mission Office, which is dedicated to carrying out the company mission to be the best BPO and make people's lives better. The program is based on several core principles and keys to success:

Confidential and Neutral: Employee participation is voluntary, confidential, and neutral from company operations
Person-Based: Developing the intelligence, will, and capacity to love every individual
Integral: Approaching human beings holistically—mind, body, and spirit
Balanced: Promoting a balanced life—work, family, and community
Inclusive: Enhancing diversity and unity
Interfaith: Based on shared values from religions around the world, ecumenism, and inter-religious dialogue
About Qwalfon
Qualfon is a mission-driven business process outsourcing (BPO) company and a global provider of contact center services and back-office processing. With experienced BPO leadership and a strong track record of business growth dating back to our founding in 1995, Qualfon helps companies reduce costs and deliver superior customer experiences. Today, we have approximately 12,000 employees serving international brands across many industries, and our intelligent outsourcing locations span the United States, the Philippines, Guyana S.A., and Mexico. Qualfon's mission to "Be the Best BPO, Make People's Lives Better" means we invest in our people and, in return, they take better care of you and your customers. Qualfon's employee retention regularly exceeds the industry average, which creates a people-driven value chain: Our employees stay longer, providing you a higher quality service at a lower price.