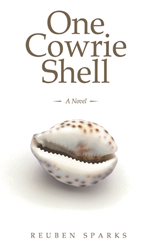 BLOOMINGTON, Ind. (PRWEB) October 13, 2016
iUniverse author Reuben Sparks has finalized an option agreement on his book One Cowrie Shell with Orlando Jones' Legion of Creatives. Sparks pitched to producers at the Las Vegas Book to Screen PitchFest in June 2016, where Legion of Creatives was in attendance.
"I am excited to get my foot in the door [through Author Solutions' PitchFest]…[after] seeing my first novel, One Cowrie Shell, published. It's like seeing your children go off to college or get their first job. I hope this is the first of many opportunities."
Noam Dromi, Legion of Creatives' president, added, "Reuben Sparks has created a fascinating historical adventure that offers a fresh perspective on the latter days of the transatlantic slave trade and the American Civil War. The protagonist, a young African warrior, breaks into the U.S. in his quest to free several members of his tribe from the savagery of slavery. Reuben's impressive literary debut has a natural cinematic quality, and we're excited to partner with him to adapt his story into a powerful event mini-series."
One Cowrie Shell shares the compelling tale of a young Yoruba tribesman's journey during the 1800s to find his one true love, which takes him on a harrowing adventure across the Atlantic after being sold into slavery. Weaving together nineteenth century tribal life in central Africa with the nineteenth century Atlantic Slave Trade adds a gripping twist to a traditional love story.
Author Solutions has been hosting Book to Screen PitchFest events since 2011, with over 600 books pitched to over 150 different representatives from film, television and digital media companies. Self-published authors retain all the rights to their books, simplifying deal processes and providing a great source of untapped talent for Hollywood.
The next PitchFest is scheduled for November 4-5, 2016, in Los Angeles, California.
For more information about Author Solutions' self-publishing services, please visit authorsolutions.com. Follow @authorsolutions on Twitter and "Like" us at http://www.facebook.com/AuthorSolutions for the latest supported self-publishing news.
---
About Author Solutions, LLC
Author Solutions, LLC, is headquartered in Bloomington, Indiana, and as the world's leading supported self-publishing provider, has served authors on six continents. Through Author Solutions' leading self-publishing imprints—AuthorHouse, iUniverse, Palibrio, Trafford Publishing and Xlibris— and strategic alliances with leading trade publishers and media organizations, we have helped more than 200,000 authors self-publish, promote and bring to market more than a quarter million new titles. Through continuous innovation, Author Solutions makes it possible to develop new literary talent efficiently and to provide authors with the widest range of services for bringing their books to market. Please visit authorsolutions.com for more information. Follow @authorsolutions on Twitter and "Like" us at facebook.com/AuthorSolutions for the latest news.
About Legion of Creatives, LLC
Hollywood, California based Legion of Creatives (LOC) was founded by Former Disney and KO Paper Products senior executive, Jay Williams. His two founding partners include: Actor, Comedian, Writer/Producer Orlando Jones and Dolphin Tale Screenwriter, Digital Expert and Producer/Writer, Noam Dromi. LOC is an immersive content studio working with the world's leading storytellers. Recognized as a market leader in multi-platform narrative programming, LOC's principals won the first ever Primetime Creative Arts Emmy award for virtual reality storytelling in 2015. The company has brought together some of the best writers, producers, animators, creators and consumer brands in entertainment to launch a global media business that will create, own and distribute premium programming tailor made for today's digital and mobile natives. LOC's business and production model disrupts traditional media's current approach to producing and distributing alternative content formats through the use of proprietary technology, digital strategy and integrated marketing expertise.