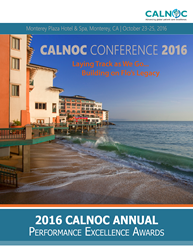 "We congratulate our 2016 Performance Excellence Award winners. They do the heavy lifting, day in and day out, sometimes with no recognition. They prove that you can make a difference with hard work and dedication." said Tony Sung, CEO CALNOC
San Ramon, CA (PRWEB) October 12, 2016
CALNOC, the nation's first nursing quality indicators database, today announced the 2016 Performance Excellence Award Winning Hospitals recognized for excellent performance in the reduction of hospital acquired pressure ulcers, injuries from falls and infections.
This year's winners exemplify dedication and commitment to quality patient care and safety. These hospitals were not only able to achieve excellence in preventing harm to patients but they also managed to sustain excellent performance over many quarters.
"It is with sincere thanks and appreciation, we congratulate our 2016 Performance Excellence Award Winners. They do the heavy lifting, day in and day out, sometimes with no recognition. They prove that you can make a difference with hard work and dedication. We are all inspired by each one of you! "said Tony Sung, Chief Executive Officer for CALNOC.
CALNOC 2016 Performance Excellence Award Winning Hospitals
About CALNOC
The Collaborative Alliance for Nursing Outcomes (CALNOC), is the leading provider of Business Intelligence, and Research on nurse sensitive quality indicators. CALNOC serves as the nation's only nurse sensitive registry managed, operated and designed by nursing. Always on the forefront of patient care excellence, CALNOC created the first database registry of nurse sensitive indicators which turns patient outcome data into powerful information for hospital executives to guide decisions to advance global patient care. Hundreds of hospitals have joined CALNOC to monitor and benchmark performance in order to deliver excellence in patient care. CALNOC is a non-profit 501 (c) (3) public benefit corporation with headquarters in San Ramon, California. For more information, call 888-586-1994 or visit http://www.calnoc.org