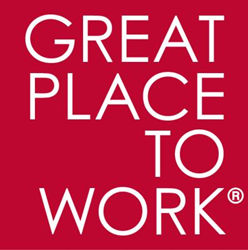 Companies, particularly smaller ones, rarely last long if they don't innovate. That's one of the many reasons the Best Small and Medium Workplaces are well-positioned for success
San Francisco, Calif. (PRWEB) October 12, 2016
Great Place to Work(R) shows that high-trust workplaces accelerate innovation and revenue growth.
When it comes to employment, small businesses make a big impact. Since 1990, as big businesses cut 4 million jobs, small businesses added 8 million new jobs. Their growth has the power to reshape industries while improving the well-being of this outsized share of the workforce. So Great Place to Work(R) and Fortune are excited to announce this year's annual ranking of the country's Best Small and Medium Workplaces.
In producing the ranking of these leading employers, Great Place to Work(R) studied survey responses from more than 52,000 employees at hundreds of small and mid-sized Great Place to Work-CertifiedTM companies. Among the findings of the study: employee trust in leadership fuels innovation. Employees who report their workplace to be a high-trust environment are 17 times more likely to experience innovation-related behaviors, such as cooperation, employee involvement in decisions and managers recognizing that honest mistakes are part of doing business.
"Companies, particularly smaller ones, rarely last long if they don't innovate. That's one of the many reasons the Best Small and Medium Workplaces are well-positioned for success," said Kim Peters, Executive Vice President of Great Place to Work. "Our research has shown their high-trust cultures encourage the independent thinking and employee initiative critical to any growing organization."
AgileCraft held the no. 1 position among small companies, followed by Framework LLC and AcademicWorks. Of the leading medium-sized organizations, GoFundMe, Grovo and Neighborhood Loans held the top three spots. Click here to view the complete lists. Surveys confirm that employees admire these companies for their collegial, supportive and trustworthy work environments. These organizations also go out of their way to cultivate collaboration and pride within their ranks. Examples include:

Lunchtime Listening: At Academic Works, colleagues can talk shop over free food with rotating members of the executive team every month. This niche software firm also foots the bill for lunches shared by employees in different departments to enhance communication and foster new ideas.
Time Away: All team members at Grovo partake in an annual three-day retreat, complete with poker tournaments, athletic contests and downtime to help co-workers bond. Individually, people at this workplace learning company also enjoy unlimited time off and are encouraged to take at least three days each quarter.
Giving Back: GoFundMe co-workers regularly nominate causes on their crowd-funding site for $1,000 company donations, with employee-directed giving adding up to more than $500,000 in 2015.
The Best Small and Medium Workplaces list recognizes 50 outstanding small businesses with fewer than 100 employees and 100 mid-sized companies with between 100 and 999 employees. These organizations represent the top-ranked companies among all Great Place to Work-CertifiedTM businesses of comparable size.
Great Place to Work(R)'s analysis for the ranking showed that employees in high-trust work environments are more motivated and deliver superior results. Among employees who agree they have a standout workplace, 94 percent say their colleagues are willing to give extra to get the job done. There's also a connection between exceptional workplaces and higher-than-average revenue growth. Employees who rate their workplaces 3.5 or higher on a scale of 5 are 26 percent more likely to work in a company with above-average revenue growth.
At the front of the pack, the Best Small and Medium Workplaces enjoyed roughly three times the revenue growth of their peers.
The Best Small and Medium Workplaces is one of a series of rankings by Great Place to Work(R) and Fortune based upon employee survey feedback from Great Place to Work-CertifiedTM organizations.
About The Best Small and Medium Workplaces
Published together with our partner, Fortune, the Best Small & Medium Workplaces rankings are based entirely upon feedback from more than 52,000 employees at Great Place to Work(R)-CertifiedTM companies. Employees completed our anonymous Trust Index(C) survey, answering questions about how frequently they experience the behaviors that create a great workplace, including, for example, their assessment of the honesty and quality of communication by managers, degree of support for employees' personal and professional lives and the authenticity of relationships with colleagues.
Results from the survey are highly reliable, having a 95% confidence level and a margin of error of 5% or less. Winning a spot on this list indicates the company has distinguished itself from peers by creating a great place to work for all - not only do the majority of their employees experience the company as a great place to work, but this experience is consistent across the organization, regardless of gender, race/ethnicity, job role, or other personal characteristics. The companies with the highest employee ratings compared with organizations of the same complexity in size and scope were selected for the list. Companies with fewer than 100 employees compete for placement on the 50 Best Small Workplaces list, and companies between 100 and 999 employees compete for placement on the 100 Best Medium Workplaces list.
About Great Place to Work(R)
Great Place to Work(R) is the global authority on high-trust, high-performance workplace cultures. Through proprietary assessment tools, advisory services, and certification programs, including Best Workplaces lists and workplace reviews, Great Place to Work(R) provides the benchmarks, framework, and expertise needed to create, sustain, and recognize outstanding workplace cultures. In the United States, Great Place to Work(R) produces the annual Fortune 100 Best Companies to Work For(R) list and a series of Great Place to Work(R) Best Workplaces lists, including lists for Millennials, women and diversity, as well as lists representing many different industries.
Follow Great Place to Work(R) online at Greatplacetowork.com and on Twitter at @GPTW_US