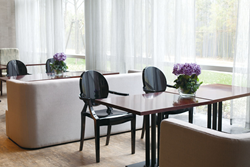 We are very excited to welcome our newest vendors Anji Mountain and Diamond Sofa to the EZmod website
Baldwin Park, CA (PRWEB) October 13, 2016
EZmod Furniture is always searching for the hottest styles and eye catching pieces. Because of this, the company is welcoming new vendors Anji Mountain and Diamond Sofa to the EZmod Furniture website. Also, the Halloween Sale is in full swing with EZmod offering discounted prices on all ghost chairs.
The many hours of researching application after application of vendors has finally paid off. The vendors have trickled down to the very best. The newest vendors to the EZmod website include Anji Mountain and Diamond Sofa. "We are very excited to welcome our newest vendors Anji Mountain and Diamond Sofa to the EZmod website," explained Gloria Ortega, Operations Manager.
The finest area rugs and office chair mats is what really made Anji Mountain the company it is today. With rugs made up of natural fibers and recycled materials like bamboo, sea grass, jute, cork and so many others, the rugs are very ecologically friendly. Anji Mountain is a family owned business that allows only materials that are sustainable through the planet's natural resources. According to the company, the versatility of recycled materials and natural fiber is extremely durable and offers a long life span to it.
Known for a design authority and possessing all of the urban attitude in the world, Diamond Sofa is an innovative distributor and manufacturer. The company believes in not just selling furniture, but promoting a lifestyle. It is a daily ritual for Diamond Sofa to create the most innovative, modern and one of a kind pieces possible. The company believes the furniture has a "Zen" like quality which speaks to the wants and needs of people.
Attention all of you ghouls and gals, the Halloween Sale is in full swing. All ghost chairs are on sale from October 11th through October 31st. Now customers can enjoy 10% off the ghost chairs. The ghost chairs include all Louie Arm Chair, Louie Armless Chair and Lexy Eiffel Chairs set of two and four. Customers can use promo code EZboo2016 at checkout.
From modern designs to mid century to contemporary, Ezmod Furniture has what you are looking for. Ezmod Furniture is an online modern furniture company specializing in beautiful, premium furniture and interior décor. EZmod Marketing Specialist Angelique Valdez is happy to answer any questions you may have. For more about these featured chairs and all other inquiries, please call 866-630-6161 extension 113 for more information.