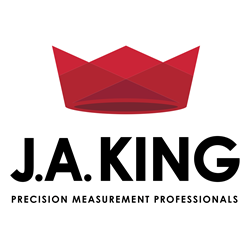 "B&C Instruments works with customers in the same target industries as J.A. King, so they're a great fit for us," said John King, CEO of J.A. King.
Greensboro, NC (PRWEB) October 18, 2016
J.A. King, a leading ISO 17025 accredited precision measurement company, today announced that they are acquiring B & C Instruments, Inc., a Huntsville-based calibration and inspection laboratory.
The purchase of B & C Instruments further increases J.A. King's market share in Alabama and expands its calibration and repair capability in multiple industries throughout the region. "B&C Instruments works with customers in the same target industries as J.A. King, so they're a great fit for us," said John King, CEO of J.A. King. "We can also offer them additional benefits, like an entire custom engineering department and consulting, training and audit prep services."
J.A. King will maintain operations at the Huntsville, AL facility with minimal disruption in service. "We're excited to welcome the Huntsville team to our company," added King. "As we move forward, we plan to uphold and expand B&C's high level of customer service for all of Northern Alabama."
About J.A. King
J.A. King is a full service precision measurement and calibration company. With over twenty locations throughout the Southeast and Midwest United States, J.A. King provides quality measurement equipment, backed by the highest standards of service and calibration in the industry. For more information, please visit http://www.jaking.com