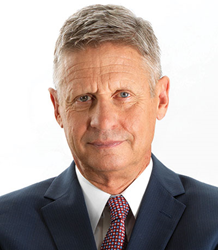 Lynchburg, Va. (PRWEB) October 12, 2016
Libertarian presidential candidate and former governor of New Mexico Gary Johnson will speak at Liberty University's Convocation on Monday, Oct. 17, beginning at 10:30 a.m. EST. Johnson joins a long and impressive list of presidential and vice presidential candidates to speak at Liberty — among them, Republican presidential nominee Donald Trump, Republican vice presidential candidate Mike Pence, and presidential candidates Ben Carson, Ted Cruz, and Bernie Sanders.
After Governor Johnson speaks, he will participate in a Q and A session. Liberty students will provide many of the questions. Governor Johnson is polling between 6 and 9 percent nationwide and is set to receive the highest vote total of any Libertarian presidential candidate in history. He will also be the first Libertarian candidate to have his name on the ballot in every state.
Any media who wish to cover Governor Johnson's trip to Liberty University must contact Len Stevens, executive director of external communications, at ljstevens(at)liberty.edu.
About Liberty University
Liberty University, founded in 1971, is the largest private, nonprofit university in the nation, the largest university in Virginia, and the largest Christian university in the world. Located near the Blue Ridge Mountains on more than 7,000 acres in Lynchburg, Va., Liberty offers more than 500 unique programs of study from the certificate to the doctoral level. More than 250 programs are offered online. Liberty's mission is to train Champions for Christ with the values, knowledge, and skills essential for impacting tomorrow's world.