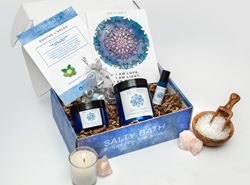 "Recharging is essential, and I'm not talking about smartphones," says co-founder Tami McCarthy. "Women need to nurture themselves – emotionally, physically, spiritually, and mentally."
New York, NY (PRWEB) October 18, 2016
It's no secret that when it comes to priorities, women put themselves at the bottom of the list. With more than 57 percent of women in the workforce,* many are juggling careers and families as they dash from the office to PTA meetings and church or community events. It's become a hard truth in our society, that exhaustion and busyness are badges of honor that we flaunt, only to lead to stress and burnout.
But starting today, women have a new option to help them jump to the top of their priority list. Salty Bath, a new monthly subscription service, delivers all natural, organic self-care packages to subscribers' doorsteps. Each box is filled with artisanal and small-batch bath and mindful products to help recipients care for themselves and rejuvenate their spirit. By taking the hassle out of hunting for solutions, products, or a place, Salty Bath aims to help people take charge of their lives and optimize their well-being, right at home.
"Recharging is essential, and I'm not talking about smartphones," says co-founder Tami McCarthy. "Women need to nurture themselves – emotionally, physically, spiritually, and mentally. I am one of those reformed crazy-busy people – juggling a family, a career and many creative pursuits, and I fell into the trap that I as long as I was taking care of everyone else, I was fine. That's just self-abuse, and I needed to make changes."
In people's quest to "do-it-all," they constantly compromise their health, and the issues that arise from self-neglect are real. Studies have shown that women, who exercise regularly, eat right, get sufficient sleep and find satisfaction in their work and personal lives have less depression, anxiety, and illnesses, such as heart disease.
"Baths were always therapeutic for me," continues Tami, "but I lacked a structured routine or ritual that combined relaxation with wellness and mindfulness. So I started there. I began meditating while taking a 20-minute, warm salty soak with essential oils. The impact on my body and spirit was astonishing, and this had big payoffs in every facet of my life. That's when Salty Bath was born."
Being depleted, people lack the energy and focus to make clear decisions, and are unable to problem solve in a purposeful manner. But those who take care of themselves regularly better handle life's curveballs. Taking care of oneself can also demonstrate an example of positive self-esteem and healthy behaviors as a role model for one's children.
"I've experienced first-hand the power of meditation and how present one can become by being still," says co-founder, Dan McCarthy. "Water is a conductor of inner peace and the benefits of a therapeutic bath are amazing, from promoting better sleep to helping to quiet all the internal noise we have flying around inside our heads. With Salty Bath we want to bring that peace to your own home."
Tami adds, "If we do just a few things regularly, to renew our energy and revitalize our spirit, we can be fully present in our own lives, enjoy life more, and provide for our families from a place of abundance. That works a whole lot better for everyone involved. With Salty Bath, we want to be the transformation agent that helps you get the job of self-care done, because we know it will help you reduce stress, and sleep better, plus our soaks will eliminate toxins from your body, soothe tired muscles and joints, and replenish you with the nurturing you need to thrive in this crazy-busy world."
Subscriptions to Salty Bath start at $27.95 monthly and feature a range of custom-made, small-batch bath soaks and body products as well as a curated mix of mindful items such as healing crystals, a specially artist-designed mandala mantra card, reiki-charged candles, artisanal goods such as soaps, bath bombs, and more. Every box also features a surprise inside. The crown jewel of every delivery is the Salty Bath Salt Soak – a mix of Dead Sea salts and magnesium sulfate infused with therapeutic-grade essential oils that changes each month. To find out more, visit http://www.SaltyBath.com. The site also provides a Give A Gift functionality, just in time for the holidays.
###
To schedule an interview, or request a complimentary Salty Bath Box for a review, please contact Tami McCarthy. // email: tami(at)saltybath(dot)com
About Salty Bath
We've taken our passion for good health, natural remedies and mindfulness to create unique and special moments for you to reconnect with yourself.
We believe one of the healthiest ways you can take care of your body is to give your mind some serious downtime. Our curated bath experiences are carefully designed to help relax, restore, rejuvenate and renew you. Our mission is to provide you with the utmost hassle-free, affordable luxury, where you not only have a spa-like experience in your own bathtub, but also enjoy the luxurious benefits of our all-natural, organic products without any negative side effects, artificial ingredient or harsh chemicals.
Giving back is also important to us. That's why we will donate a percentage of sales to support charities dedicated to bathing the homeless, or clean water initiatives, bringing water to those who need it most around the globe. We all benefit when we love ourselves, and we love others.
*U.S Bureau of Labor Statistics, 2014