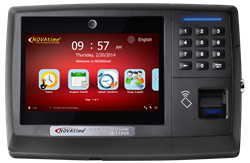 The fact that employees are able to submit time-off requests and view timesheets is a huge help
Diamond Bar, CA (PRWEB) October 13, 2016
NOVAtime Technology Inc.(http://www.novatime.com), a forward thinking Workforce Management / Time & Attendance company, is pleased to announce that NOVAtime has successfully introduced the NT7000 Biometric Smart Clock into Complete Linen Services' existing NOVAtime Workforce Management / Time & Attendance solution.
Family owned and operated since 1987, Complete Linen Services has been providing linen service and uniform services to many of the San Francisco Bay area's finest restaurants, hotels and country clubs. NOVAtime has been providing Complete Linen Services with their Time & Attendance / Workforce Management needs since they switched from their Sundial system in May, 2015. Since then they have been pleased with how easily their new system was able to track their 130 employees and two supervisors.
The fantastic results that came from using the NOVAtime system were amplified with the introduction of the NT 7000 Biometric Smart Clock, with Complete Linen Services using three at their single location to cover all of their employees. The NT7000 Biometric Smart Clock is equipped with a biometric finger scanner which ensures that all punches are connected to the proper employee, completely eliminating the issue of buddy punching.
However, biometric punching is not the feature that has most excited the HR department at Complete Linen Services. "The best part about the NOVAtime system is the ease of use for everyone using the system – both employees and supervisors!" stated one HR professional. "The fact that employees are able to submit time-off requests and view timesheets is a huge help." This ease of use dramatically cuts down on time wasted wrestling with the system, allowing the employees and supervisors at Complete Linen Services to focus on what they do best, providing the best linen and uniform service possible.
For more information on NOVAtime and how they can help you streamline your workforce management needs, please email sales(at)novatime(dot)net or call 877.486.6682.