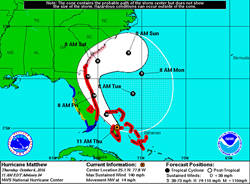 Boca Raton, Florida (PRWEB) October 18, 2016
In South Florida, the demand for hurricane shutters has increased dramatically over the past week and companies are all overwhelmed with calls for estimates over the past two weeks. Long wait times are likely, and an increase in prices is imminent if this trend continues.
South Florida had a close call. Severe impacts were seen from central Florida as far north as North Carolina. To all homeowners looking for hurricane shutters or windows for next season, waiting until February or March of next year may be too late to ensure installation for the start of hurricane season.
Even though South Florida has not had a direct impact and little to no damage a few miles from the coast, hurricane shutter companies are receiving an influx of phone calls from customers who had put up their hurricane panels supplied by the builders, including:

A handful of people who sustained injuries.
Many people missing panels for their windows.
Reports of panels cut to the wrong size that did not fit correctly while trying to install and protect their homes. This could have been disastrous for many homeowners who thought their homes were secured.
This problem extends past just hurricane panels. Assured Storm Protection had over two hundred calls from homeowners. Some of the phone calls received were from Assured Storm Protection customers, but most of the phone calls were from people that had accordion shutters installed by a company that is no longer in business. The majority of the calls Assured received were made by customers who were unable to close their accordion shutters due to the fact that many had not maintained their shutters for years. When accordion shutters are not maintained, a multitude of problems can occur, such as:

The locks can oxidize, causing lock failure.
The rollers on the top can oxidize and are unable to roll on their tracks.
The bottom tracks build up debris over the years, such as grass trimmings, dirt, leaves, bugs, dog hair, cigarettes, and more.
When the hurricane warning was issued, Assured Storm Protection's CEO Graziano Ferrari dispatched all available employees to assist customers that had issues installing their hurricane protection. This time, South Florida got lucky. Assured helped just about every one of their customers that had issues. Assured was able to walk through some of their customers' issues over the phone.
Assured Storm Protection sent out all available installers to help close and repair customers' hurricane shutters. At one of Assured's stops, Vice President of Sales and Marketing Anthony Sangiorgio was asked to speak on air for CBS 12 WPEC with Mike Magnoli. CBS and Assured Storm Protection wanted to stress the importance of yearly maintenance to ensure the safety of everyone's home and family. Most can have a false sense of security when having hurricane protection that is not properly maintained.
Assured Storm Protection has posted videos at Assured Storm Protection that explain how to properly perform maintenance on hurricane shutters if any customers choose to do it themselves. More information can be found on their Hurricane Shutter Maintenance page.