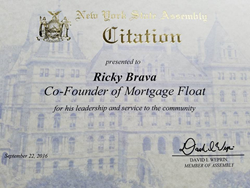 "Get ready, this industry is going to come back pretty hard and rapidly," says Ricky Brava
New York, NY (PRWEB) October 22, 2016
Mortgage Float announces the purchase of Oil and Gas Wells in The United States for the coming quarter.
It's not a matter of if, it's about to happen and there's no stopping it. Oil prices are on the rebound finally, explains Ricky Brava.
Mortgage Float will be buying up Oil and Gas Wells here in The United States, looking to make up lost time.
"Get ready, this industry is going to come back pretty hard and rapidly," says Ricky Brava.
This is all great for the American economy since the by-product is that thousands of workers will be needed in every part of the oilfields.
Oil companies are also seeing what is known as the halo-effect on wells. Now that there have been a substantial amount of wells put in, companies are starting to reap the rewards of multiple wells in a close spacing. When oil companies come back to an area that was previously drilled and punch a new well the old wells are benefiting from the newly fracked wells. The process is know as the halo-effect. Companies drill a new well, frack it with their new methods that are producing monster wells, wells big enough to make Saudi Arabia turn its head.
The new wells being fracked stimulate the old wells boosting the old wells production numbers.
The industry is eager to get back to work, with the past drop in oil prices everything slowed down everywhere for the oil and gas well owners. Now the industry is ready and able to produce at higher levels.
According to the U.S. Energy Information Administration report on October 2016, http://www.eia.gov/forecasts/steo/
U.S. crude oil production averaged 9.4 million barrels per day (b/d) in 2015, and it is forecast to average 8.7 million b/d in 2016 and 8.6 million b/d in 2017. Forecast production in 2017 is almost 0.1 million b/d higher than in the previous forecast., and Natural gas marketed production fell from 79.7 billion cubic feet per day (Bcf/d) in September 2015 to 76.5 Bcf/d in July 2016. EIA expects marketed natural gas production to average 77.5 Bcf/d in 2016, a decrease of 1.6% from the 2015 level, which would be the first annual decline since 2005. Forecast production increases by 3.7 Bcf/d in 2017.
Mr. Ricky Brava is the Co-Founder of Mortgage Float. http://www.MortgageFloat.com.
He is an avid Public Speaker that speaks at national and international conferences.
Mr. Brava has received Honorable Citations from The New York State Assembly and New York City Council, as well as being recognized by New York State Senators for his leadership and service to his community.
Follow Mr. Brava on Twitter https://twitter.com/RickyBrava
Ricky Brava regularly holds educational seminars and networking meetings in his NYC office.
Author
Eric Peters
The Wall Street Publication