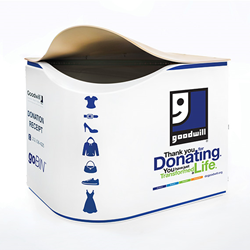 "We don't usually think of 'plastics manufacturing' and 'environmentally friendly' in the same context, but the thermoforming process...is the exception." Linda Pratt, Director of Sustainability and Partnerships, SF Goodwill
San Francisco, Calif. (PRWEB) October 18, 2016
A series of Goodwill goBINs, thermoformed by Ray Products, are being deployed to Goodwill chapters around the country. The goBINs make it easier and more convenient than ever for city dwellers to recycle clothing and textiles.
"Convenience is the most important factor for people deciding what to do with the items they no longer need," said SF Goodwill Director of Donations Leslie Bilbro.
The goBINs are intelligent, wirelessly connected donation bins designed to be deployed in the lobbies of apartment buildings. In cities like San Francisco, where 31% of the residents don't have a car, taking a load of clothing to Goodwill can be a significant obstacle to recycling. SF Goodwill would eventually like to place a goBIN™ in every large apartment building and condo in the city.
"One of our goals with the goBIN™ project is to make a product that we're proud of from beginning to end, including the design, materials and manufacturing process," said Linda Pratt, SF Goodwill's Director of Sustainability and Partnerships. "We don't usually think of 'plastics manufacturing' and 'environmentally friendly' in the same context, but the thermoforming process we're using for the goBIN's enclosure is the exception."
"We looked at several different options for manufacturing the goBIN's enclosures, and thermoforming stood out not only for environmental reasons but because it's very durable, cost-effective, lightweight and it looks good," said Pratt.
Ray Products not only thermoformed the panels used in the enclosure, but it also helped to develop the attachment hardware and assembly process that allow the goBINs to be shipped directly from Ray Products' factory in California to apartment buildings around the city, ready to be assembled in place by building managers.
So far, goBINs have been deployed in Washington, D.C., Indiana, New Mexico, Pennsylvania, Texas, Canada and, of course, California.
About Ray Products
Ray Products is a custom plastics manufacturer based in Ontario, California. Founded in 1949, the company is currently under its third generation of family ownership. Ray Products operates a 48,000 square foot ISO 9001:2008 certified manufacturing facility that offers the largest thermoforming capabilities on the West Coast, fully robotic 6-axis trimming and 3D coordinate measurement accurate to within ten-thousandth of an inch.
Website: http://rayplastics.com
About SF Goodwill
Goodwill Industries of San Francisco, San Mateo and Marin Counties opens doorways to jobs for local people in need. Celebrating its centennial in 2016, SF Goodwill continues to innovate through its eCommerce, specialty boutique, family store and salvage businesses, which fund local job training, job placement and employment opportunities that give people a second chance at a sustainable livelihood. Using the proven methods of the Goodwill Way, the enterprise focuses on people who are coming out of jail, off the streets, out of addiction and displaced from other countries, transforming their lives through the power of work. In the next 12 months, more than 1,000 local people will get jobs through SF Goodwill and another 5,000 will be readied to rejoin the job market.
Website: http://sfgoodwill.org