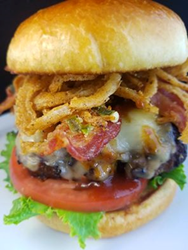 "If there was a way to challenge every restaurant in America to a burger off, i'd issue the challenge today"
Tampa, FL (PRWEB) October 19, 2016
Tampa area Restauranteur Ryan Gougeon believes his restaurant serves up the best burger in America and he's willing to prove it. Gougeon is the owner of the award winning James Joyce Irish Pub & Eatery in Ybor city, Florida.
The pub & eatery has won numerous culinary awards for its burgers:

2016 Beer N' Burger Throwdown at Raymond James Stadium "Best Signature Burger" and "Best use of Bacon" Category
2016 Bud & Burger Challenge Mahaffey Theater "Best Burger in Tampa Bay"
2015 Burger Showdown at Curtis Hixon Park "Best burger in the Bay"
2014 Burger Showdown at Curtis Hixon Park "Best bring the heat" Burger category.
Gougeon says the vast majority of the wins come from their Jameson BBQ burger.
Gougeon describes his Chef designed Jameson BBQ burger like this: "We start with Premium Angus beef, fresh never frozen. Then we grill it your way, with fresh toppings, delicate fried onion strings, candied maple bacon, pepper jack cheese, lettuce, tomato, and smothered in our in-house made Jameson BBQ sauce, made with Jameson Irish Whiskey, all on a fresh baked brioche bun.
After dominating many big name Tampa Bay area restaurants in Burger Culinary challenges, Gougeon says he is convinced his restaurant has the best burger in America. Gougeon half-jokingly states: "if there was a way to challenge every restaurant in America to a 'burger-off' I'd issue the challenge today." Gougeon continues: "I would invite anyone to come in and try one for themselves. If it isn't the best burger you've ever had, anywhere, I'll pay for yours."
You can learn more at http://www.jamesjoyceybor.com
Or facebook.com/jamesjoyceybor or by calling them at 813-247-1896