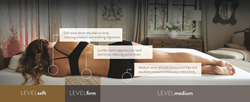 Sonoma, CA (PRWEB) October 13, 2016
Science-based sleep company Level Sleep announced the launch of its unique sleep system designed and proven to significantly reduce pain and snoring. The launch coincides with the opening of the Level Sleep Experience Center in Sonoma, California, where the company is headquartered. Level Sleep's TriSupport Mattress, and Restore Pillow work together to provide lumbar support and optimal alignment of the neck, spine, and body, and are available now for trial and purchase at the Center and at - https://www.Levelsleep.com, and are backed by a 110-Night Comfort Guarantee. A TriSupport Topper is also available.
According to the Institute of Medicine, more than 100 million Americans suffer from chronic pain, costing the country up to $635 billion annually in medical treatment and lost productivity*. "We set out to create products that would ease pain and foster deep, restorative sleep. Through our sleep system 'designed for the human form,' we're able to offer a solution clinically proven to accomplish both," said Level Sleep co-founder and chief executive officer JJ Abodeely.
Designed by inventor, researcher, and best-selling author on the subject of sleep, Roger Sramek, the Restore Pillow is a patent-pending design that correctly positions your neck and head for maximum airflow and comfort while sleeping. Unlike other pillows, Restore offers breathable ear wells, reducing pressure on the ears and helping prevent skin from bunching and facial wrinkles. The pillow adjusts to three different heights, allowing users to customize for optimal comfort. The current design improves upon a version demonstrated to reduce snoring events by 78% through clinical trials conducted by Stanford University sleep researchers including Dr. Clete Kushida, director of the Stanford Center for Human Sleep Research.
Also created by Sramek, the TriSupport Mattress features multi-patented technology and three unique zones of firmness for more comfortable, supportive sleep. The soft zone allows the shoulder to drop, reducing pressure and enabling alignment. The firmer lumbar zone supports the back and torso, reducing spinal strain. The medium zone reduces pressure on hips and equalizes pressure across the entire body. In separate IRB-approved trials designed by Dr. Kushida, the Level Sleep mattress reduced pain by 56%, tossing and turning by 35%, fatigue by 43%, and the time it took to fall asleep by 56%.
"Because our bodies are curved they need more than the single level of support offered by traditional mattresses," said Level Sleep co-founder Sramek. "You wouldn't sit for eight hours a day without lumbar support and you shouldn't sleep without proper lumbar support, either."
The TriSupport Mattress collection ranges in price from $999 to $2399, and includes a Luxe model featuring a latex performance layer. The TriSupport Topper is priced from $299 to $499, while the Restore Pillow retails for $99. Level Sleep products are available exclusively at https://www.Levelsleep.com and at the Level Sleep Experience Center and come with the brand's 110-night comfort guarantee.
The Level Sleep Experience Center is located at 579 First St. W in Sonoma, CA, and is open 9 am to 5 pm PST, Monday through Friday, or by appointment. The company is quickly growing, having already shipped its products to customers in 37 states.

Institute of Medicine (2011). Relieving Pain in America, A Blueprint for Transforming Prevention, Care, Education, and Research. Washington, D.C.
ABOUT LEVELSLEEP
Founded by Roger Sramek and JJ Abodeely, Level Sleep is a science-based sleep company that designs products to help people live more productive lives with less pain through better sleep. In 2016 the company began selling the TriSupport Mattress, a unique three-in-one sleep surface clinically proven to reduce pain and increase sleep quality, and the TriSupport Topper. The company recently rounded out its product line with the introduction its Luxe model latex mattress and two pillows in its Restore line. Level Sleep is based in Sonoma, California and is proud to manufacture its products in the USA from non-toxic materials. To shop the website or to learn more about healthy sleep habits, please visit https://www.Levelsleep.com.
###
PRESS CONTACTS
Leigh Oshirak
leighoshirak(at)mac.com
415-350-1575
Abigail Jacobs
abigailjacobs(at)gmail.com
415-786-9204