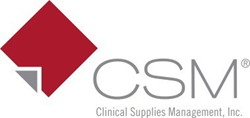 "Partnering with Great Point will allow CSM to make further investments for growth and we look forward to increasing scale globally to create the largest service provider dedicated to clinical supplies."
Fargo, ND (PRWEB) October 13, 2016
On October 12th, 2016, Clinical Supplies Management (CSM), a full-service solutions provider for clinical trials materials management, partnered with Great Point, a private equity firm that specializes in healthcare. This partnership will allow CSM to scale quickly and strategically to meet a growing global demand, provide capital for international expansion, and develop new business opportunities.
"We are very excited to partner with Great Point, said Gerald E. Finken, CEO and Founder of CSM. "Great Point has shown that they recognize CSM's potential and share in our vision to make CSM a leader in the industry. This relationship will provide a great opportunity to expand our innovative and patient- centric On-Demand and Direct-To-Patient services."
CSM has supported global life science, pharmaceutical, and biotechnology industries in clinical trials drug packaging, labeling, and logistics solutions for nearly 20 years. The company pioneered On-Demand packaging, bringing a cost effective solution that capitalizes on fast turn around and flexibility. CSM has built a strong reputation in the last two decades and has a great platform for future growth.
Scott Houlton, an industry veteran, has joined the CSM Board of Directors and was named CEO of CSM.
Mr. Houlton held leadership roles at Aptuit and Quintiles Transnational, and most recently served as President of Development and Clinical Services at Catalent. "I am eager to join CSM and help build on their outstanding reputation," he said. "Partnering with Great Point will allow CSM to make further investments for growth and we look forward to increasing scale globally to create the largest service provider dedicated to clinical supplies." Mr. Houlton commits to help CSM continue its growth to support global trials and bring its dedicated focus of clinical supply management to health care.
About CSM
CSM provides clinical packaging and labeling, storage, distribution, returns and reconciliation, and clinical supplies consulting services with quality-driven processes to enhance biotechnology and pharmaceutical clinical trials worldwide. The company continues to evolve with its blend of unique and traditional clinical trial services that improve efficiency and accuracy.
CSM is the innovator of On-Demand Packaging and Labeling services, an industry breakthrough in which clinical supplies are prepared specifically for, and immediately prior to, each shipment. In addition, CSM continues to lead the development of Direct-to-Patient shipping for clinical trials, helping sponsor companies develop new ways to reach their patients. CSM's other core services include: cold chain logistics, controlled drug services, clinical label printing, and global distribution. For more information, visit http://www.csmondemand.com.
About Great Point Partners
Great Point Partners, founded in 2003 and based in Greenwich, CT, is a leading healthcare investment firm with approximately $900 million in equity capital under management and 28 professionals, investing in the United States, Canada, and Western Europe. The firm manages capital in private and public equity funds. Great Point Partners has provided growth equity, growth recapitalization, and management buyout financing to more than 100 growing healthcare companies.
The private equity funds invest across all sectors of the healthcare industry, with particular emphasis on biopharmaceutical services and supplies, outsourcing, and pharmaceutical infrastructure and information technology. The firm pursues a proactive and proprietary approach to sourcing investments and tuck-in acquisitions for its portfolio companies. For more information, visit http://www.gppfunds.com.