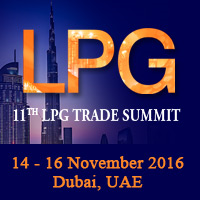 The summit reviews the global LPG supply/demand, shipping and pricing trends.
Dubai, UAE (PRWEB) October 18, 2016
The annual meet begins with vital insights on the current LPG market that has "ballooned with the advent of US exports." Aptly, the key sessions are 'The US as an Emerging Supplier of LPG' by Phillips 66 and presentation by Poten & Partners on global LPG supply/demand, shipping and pricing trends in 2016 and the way forward.
As China and South Korea are the major consumers of US produced propane, Wanhua Petrochemical and SK Gas will be presenting an update on the PDH projects in the two countries – on feedstock economics and corresponding LPG imports requirements. Further sessions on Asia include – 'Outlook for LPG demand in Japan' by Astomos Energy and brightened outlook on 'Rising LPG Demand in India & Investment Opportunities' by Indian Oil Corp Ltd.
Attendees of the summit can expect fresh perspectives on 'New demand/offtake for market balance' in a panel discussion by senior reps from Poten & Partners, Wanhua Petrochemical, Indian Oil Corporation and FGE.
The agenda also has featured presentations by:

Panama Canal Authority – The Expanded Panama Canal and Benefits/Impacts on LPG Trade Flow
ViaMar AS – LPG Shipping & Freight Market Outlook
Daya Petrol – Iranian LPG Market: Production, Domestic Development & Export Dynamics
FACTS Global Energy – Global Petrochemical Market Updates and Forward Impact/Opportunities for LPG
Emirates NBD – MENA Macroeconomic Outlook in a Volatile Oil Price Era
The summit concludes with a workshop on 'LPGtrade in 8 hours – Trading, Contracting, Shipping & Risk Management' conducted by FM Energy Services.
View event website or contact Ms. Huiyan Fu at +65 6346 9113 for more details.