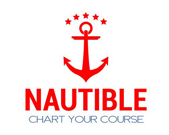 Wilmington, DE (PRWEB) October 13, 2016
Nautible (http://nautible.com/), the company launched to give those serious about purchasing a yacht premium brokerage service, is happy to unveil its new website.
"We created this company to give yacht buyers an outstanding experience; so, it only made sense for us to make sure our client's first point of contact, which is often through our website, delivers a premium experience as well," said company CEO and founder David Keeton. "You demand a lot of your yacht. Demand excellence from your broker. That excellence starts the moment you become aware of Nautible and continues through your entire experience with us, and beyond as we help you with charter locations, logistics and maintenance."
CEO Keeton ensured independent market research and targeted resources on the new website would make it smooth sailing for anyone looking to buy a yacht. "A yacht is an investment," smiled Keeton, "and we respect the investment of time, capital and emotion that goes into this special type of purchase – and our new website reflects the devotion and care we give our clients."
The bright and cheerful site is easy to navigate, and clients never have to spend time hunting for the important information they need. In fact, the FAQ, which are normally tucked away on most websites, is accessible right from the front page. The front page also gives clients quick-click access to find a boat, or a broker.
To buy a yacht and get a full range of assistance and advice before, during and after the sale, contact Nautible today. Learn more by visiting nautible.com/yacht-purchase/ and check out the FAQ at nautible.com/faq.
About Nautible
Nautible is a B2C company that focuses its clients. With innovative and progressive yacht brokerage, Nautible tailors searches for new owners, sets up showings and sea trials at convenient times, assists clients in finding the financing and insurance they need and reimburses new owners 90 days after their closing for the yacht survey expenses. Clients new to boating, as well as those with years of experience, are invited to enjoy this efficient, new, transparent, customer-focused yacht brokerage service.
Contact Details:
Nauitble, LLC
Wilmington, DE
Phone: 1-855-Nautible
Source: Nautible
###