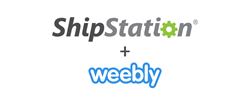 ShipStation is excited to partner with such a leader in the industry.
Austin, TX (PRWEB) October 18, 2016
ShipStation, the leading web-based e-commerce shipping solution, today announced its integration with Weebly, a global platform used by millions of entrepreneurs around the world to start their own business, sell online, communicate and interact with customers and grow their digital business.
Weebly entrepreneurs interested in connecting to ShipStation will just go to the Weebly App Center and add ShipStation. Once connected, Weebly orders will seamlessly import into ShipStation.
ShipStation will provide Weebly site creators with the ability to manage and fulfill their orders across various shipping carriers such as USPS, UPS, FedEx, DHL and more, all from within the ShipStation platform.
Additional ShipStation benefits to Weebly sellers include:

A free USPS shipping account (savings of $15.99 per month), which includes deeply discounted USPS rates
Automation features that can be set up by sellers to automatically choose the least expensive shipping option based on type of product, weight and geography
Batch printing more than 500 shipping labels at once, wirelessly, from a large variety of thermal or desktop (inkjet or laser) printers, from a Mac, PC, or mobile device
Automation features that save time and money on domestic and international shipping and fulfillment
Customized and/or branded shipping and packing label options
"ShipStation is excited to partner with such a leader in the industry," says ShipStation's Vice President of Marketing Robert Gilbreath. "Weebly customers will benefit from ShipStation's time and money-saving options, and ShipStation will continue our mission to make every seller, wherever they sell and however they ship, exceptionally efficient at fulfilling orders."
About ShipStation
ShipStation is the leading web-based shipping solution that helps e-commerce retailers import, organize, process, and ship their orders quickly and easily from any web browser. ShipStation features the most integrations of any e-commerce web-based solution with approximately 100 shopping carts, marketplaces, package carriers, and fulfillment services. ShipStation's many integration partners include eBay, PayPal, Amazon, Etsy, Bigcommerce, Woocommerce, Shopify, Squarespace, and Magento; along with carriers such as USPS, UPS, Canada Post, FedEx, and DHL. ShipStation has sophisticated automation features such as automated order importing, custom best practice rules, product profiles, and fulfillment solutions that enable its users, wherever they sell and however they ship, to be exceptionally efficient at shipping orders. ShipStation is a wholly-owned subsidiary of Stamps.com (Nasdaq: STMP). For more information, visit http://www.shipstation.com.
About Weebly
Founded in 2007, Weebly is a San Francisco-based, global platform that lets people easily create a unique website, blog or online store. Millions around the world use Weebly to start their own business, sell online, showcase their achievements and communicate with visitors in a thoughtful and meaningful way. Designed with the first-time business owner in mind, Weebly gives everyone the freedom to build a high-quality site that works brilliantly across any device. Weebly offers a range of pricing options, including free and premium consumer plans, as well as enterprise offerings and is consistently the highest-rated website building mobile app in the App Store and Google Play. Weebly's investors include Sequoia Capital, Tencent Holdings, Baseline Ventures, Ron Conway and Y Combinator. For more information, visit http://www.weebly.com/.