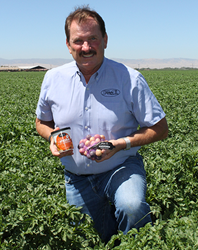 For us, it has been a real adventure and it is an honor to be recognized in the industry for what we have accomplished.
(PRWEB) October 14, 2016
Tasteful Selections in Arvin, CA, has been named the 2016 Grower Achievement AwardSM recipient by American Vegetable Grower® magazine, published by Meister Media Worldwide.
The American Vegetable Grower Achievement Award program, sponsored by AgroLiquid, recognizes vegetable growers who strive for excellence in all aspects of production including the use of innovative production practices, implementing the latest technology, finding new markets for products, and demonstrating leadership in the industry.
A producer of specialty potatoes, Tasteful Selections is a vertically integrated operation noted for its ingenuity in finding new markets, creating an extensive variety development program, and constructing a $30 million, 200,000-square-foot state-of-the-art processing facility – all while maintaining a sustainable enterprise.
Tasteful Selections grows potatoes that are sold in 15,000 stores in all 50 states, representing 35% of the specialty potato market. The operation also produces carrots, watermelon, and garlic on a total of 9,000 acres.
"It is an honor to present Tasteful Selections with the 2016 Grower Achievement Award. With a focus on sustainability from the field to the processing facility, this operation strives to increase efficiencies from variety development to planting, harvesting, and packing," said Rosemary Gordon, editor of American Vegetable Grower magazine.
Bob Bender, President and General Manager of Tasteful Selections, is an experienced grower who began producing potatoes on a custom basis for South Dakota-based CSS Farms in the early 1990s. Fast forward to today, and Tasteful Selections is growing potatoes from Washington and California to Nevada and Arizona to ensure year-round production.
Formed in 2010, Tasteful Selections is comprised of three owners: CSS Farms and two Wisconsin-based operations, Plover River Farms and the Wysocki Family of Companies' marketing arm, RPE. Tasteful Selections works with RPE on all aspects of marketing its potato products.
Since the farm produced its first bag of potatoes in August of 2010, it has experienced annual double-digit growth, Bender said. "For us, it has been a real adventure and it is an honor to be recognized in the industry for what we have accomplished."
The operation also has worked to reduce labor. Two years ago, 1,500 acres of flood-irrigated land was converted to linear sprinkler systems. As a result, the number of people required to operate the systems was reduced from 10 to two or three. Tasteful Selections is currently in the process of converting an additional 800 acres of flood-irrigated land to linear irrigation systems.
Lonny Smith, Senior Business Development Manager, AgroLiquid, said it is a great opportunity for AgroLiquid as a manufacturer of liquid plant nutrition to be able to recognize innovative and resourceful growers.
"It is inspiring to see that there are great innovators and that this industry is moving forward," Smith said. "I think the benefit to AgroLiquid in honoring a recipient for the Grower Achievement Award is getting that pulse of the industry and knowing what growers are facing, where the industry is going, hearing about the challenges they face, how they deal with consumers, and how they grow their business."
Going forward, Bender said Tasteful Selections already has an expansion in the works for its cold storage facility, will continue to work on the next great potato variety, and focus on convenience.
"Consumers have less time to prepare meals, so we are going to be seeing more fresh, convenient servings of [many food products]," Bender said. "The way we have set up our bags of potatoes, it takes just a few minutes to cook our product. For us, we will continue to look at offering consumers convenience."
About The Award
The Grower Achievement Award is presented annually by American Vegetable Grower magazine, and recognizes growers who use innovative production practices, implement the latest technology, are highly engaged in the industry, and are making inroads in their marketing efforts. American Vegetable Grower is published by Meister Media Worldwide.
The Grower Achievement Award was presented during United Fresh Produce Association's Washington Conference Sept. 13, in Washington, DC.
About Meister Media Worldwide
Meister Media Worldwide, headquartered in Willoughby, OH, provides integrated media solutions for worldwide specialized agriculture. A leader in the industry, the company provides information and networking opportunities to global markets, including fruit and citrus, vegetables, cotton, ornamental horticulture, precision agriculture, plant protection and Latin American agriculture.
Founded in 1932, Meister Media now produces 11 regular magazines, along with weekly eNewsletters and more than 20 websites, as well as trade shows and hosted-buyer events. In addition, Meister Media provides services including custom print products, web development, content marketing, videos and strategic business development services. Contact us at info(at)meistermedia(dot)com.