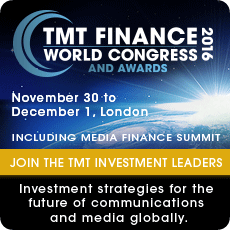 London, UK (PRWEB UK) 14 October 2016
Six media mergers and acquisitions, worth a combined total of over US$17bn, have been shortlisted for the Media M&A Deal of the Year 2016 Award, which will be presented to media companies, private equity investors and their banking advisers at the TMT Finance World Awards Dinner 2016 in London on November 30.
The stand out successful deals for the year in media took place in sports and entertainment rights, television production and business information services in Europe and North America, with US private equity and Asian investors leading deals.
European business information providers Argus Media and Infopro Digital, and Canadian business provider Thomson Reuters IP & Science were sold to private equity investors for a combined total of over US$5bn, and US cable giant Charter snapped up TV production house Bright House Networks for US$10.4bn. Asian investors China Everbright, a financial services company, and Beijing Baofeng Technology, a listed online video group, acquired a majority stake in Italian-owned, London-based media rights agency MP & Silva for US$1bn.
Key advisers on the shortlist include UBS, Deal Globe, CICC, Goldman Sachs, Guggenheim, Bank of America Merrill Lynch, JP Morgan, LionTree, Lazard, Messier Maris and BNP Paribas.
Shortlists will also be announced for Awards for Telecom, Infrastructure and Tech Deals of the Year, as well as TMT M&A and Legal Adviser, Financing Bank, Leader and Growth Story. The shortlists were selected by leading global TMT M&A and financing news provider, TMT Finance, with nominations provided by readers of the publication.
The winners for all 8 categories will be selected by a Judges' Panel comprising 15 of the most experienced and active TMT executives, bankers and advisers globally and presented at the Grange Hotel St Paul's London on November 30, following TMT Finance World Congress 2016.
The Media Finance Summit to assess next year's expected deals will take place on December 1.
Media M&A Deal of the Year 2016 shortlist:

Baofeng Technology and Everbright Capital acquisition of MP & Silva for c. US$1bn
UBS advised MP&Silva; DealGlobe & CICC advised Baofeng/Everbright
Charter Communication's acquisition of Bright House Networks for US$10.4bn
UBS advised Bright House; Goldman Sachs and LionTree advised Charter
Onex & Baring Private Equity's acquisition of Thomson Reuters IP & Science for US$3.5bn
Guggenheim and JP Morgan advised Thomson Reuters
General Atlantic acquired a 70% stake in Argus Media for an estimated £700m
Bank of America Merrill Lynch advised Argus Media
TowerBrook acquired InfoPro Digital from Apax France for E700m
Lazard advised Apax France; Messier Maris and BNP Paribas advised Towerbrook
Find out more at http://www.tmtfinance.com/world