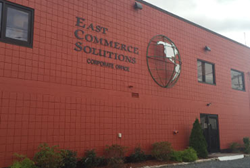 "Our acquisition of Boston Cash Register Exchange complements our efforts to expand our product offerings with increased point of sale technology innovation."
Boston, MA (PRWEB) October 25, 2016
East Commerce Solutions, Inc., a leading merchant services provider announced it has acquired Boston Cash Register Exchange, a cash registers and point of sale systems company. The acquisition continues East Commerce Solutions' expansion establishing an office to service and support its increased customer base in the Boston area.
"Our acquisition of Boston Cash Register Exchange complements our efforts to expand our product offerings with increased point of sale technology innovation" said Ed Medeiros, East Commerce Solutions' CEO. "Our customers are gaining a larger organization with a stronger focus on POS systems, cash registers, and the added benefit of working with one company that will manage all of their merchant services needs."
The acquisition provides many advantages to Boston Cash Register Exchange's customers who will now enjoy the value added benefits of low cost credit card processing solutions and access to additional products and services such as gift & loyalty card programs and payroll processing.
About East Commerce Solutions
East Commerce Solutions, Inc., is a merchant services provider based in East Providence Rhode Island. Founded in 1994, East Commerce Solutions offers a variety of merchant services solutions including credit card processing, hardware for mobile, NFC and EMV capable processing, software and E-Commerce solutions, POS systems, gift card programs, cash advance programs for working capital and payroll services. For additional information, visit East Commerce Solutions at http://www.eastcommercesolutions.com.