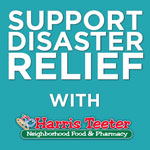 The generosity of Harris Teeter enables the Red Cross to provide much-needed humanitarian supplies, relief and care to the people affected by Hurricane Matthew
Matthews, NC (PRWEB) October 13, 2016
Today, Harris Teeter announced it will launch an in-store Emergency Support campaign to benefit individuals and families affected by Hurricane Matthew.
Shoppers have the opportunity to donate $1, $3 or $5 at checkout in support of the American Red Cross efforts. One-hundred percent of proceeds from the in-store campaign will be donated to American Red Cross which supports the affected communities by providing relief supplies, emergency response units, personnel and support for long-term reconstruction.
"When disaster strikes, our valued associates and shoppers want to lend their support and make a difference," said Danna Robinson, communication manager for Harris Teeter. "The Emergency Support campaign will be an easy way for customers to support Hurricane Matthew relief efforts the next time they are in our stores."
"The generosity of Harris Teeter enables the Red Cross to provide much-needed humanitarian supplies, relief and care to the people affected by Hurricane Matthew," said Don Herring, chief development officer at the American Red Cross. "These contributions, along with the support of the American public, ensure that the Red Cross is able to respond immediately with food and shelter during disaster relief efforts."
Harris Teeter is committed to the communities where its customers and associates live and work. The company will continue to provide shoppers the opportunity to donate to organizations that make a difference in the lives of their friends, colleagues and communities around the world.
Harris Teeter appreciates the support of its media partners in all of its marketing areas including WBTV in Charlotte, Comcast Cable in Washington, DC and Charleston, SC and Time Warner Cable in Raleigh, Greensboro-Winston Salem and Wilmington, NC.
For questions about Harris Teeter's giving programs, please visit harristeeter.com.