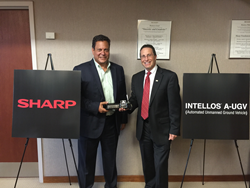 "At National Grid, the safety and security of our employees and the public is our number one priority. The multi-terrain robot offered by A+ Technology is a new and innovative technology that any organization focused on security should explore."
Mahwah, New Jersey (PRWEB) October 13, 2016
Sharp Robotics Business Development (SRBD), a division of Sharp Electronics Corporation (SEC), publicly acknowledged the appointment of A+ Technology & Security Solutions, Inc. as Sharp's first authorized security systems integrator to sell and support their Sharp INTELLOS™ Automated Unmanned Ground Vehicle (A-UGV). Recognition of this honor followed Sharp's official press conference and the unveiling of their Sharp INTELLOS A-UGV at the 62nd Annual Seminar and Exhibits of ASIS International 2016 (ASIS) in Orlando, Florida on Monday, September 12th.
A+ Technology & Security Solutions, Inc., with executive offices in Bay Shore, NY and Bridgeport, CT, is a pioneer in video security and technology integration specializing in the convergence of physical and IP video security. According to David Antar, President of A+ Technology & Security Solutions, "Our company's expertise in 'convergence excellence' dovetails perfectly with the role the Sharp INTELLOS A-UGV can play as part of a comprehensive physical security solution. A+ already offers and supports a wide range of security and facility management systems in a varied array of industries. With the Sharp INTELLOS A-UGV, we can now extend to our customers an autonomous mobile platform, equipped with outdoor physical security and environmental sensors, the data from which can be monitored, prioritized and managed by the same centralized command centers for a comprehensive, fully integrated solution."
National Grid, who is evaluating the technology based on A+ Technology & Security Solutions' recommendation, was on hand for the Sharp INTELLOS A-UGV ASIS 2016 press conference. Warren Bamford, National Grid's Vice President of Global Security, said, "At National Grid, the safety and security of our employees and the public is our number one priority. The multi-terrain robot offered by A+ Technology is a new and innovative technology that any organization focused on security should explore."
The Sharp INTELLOS A-UGV is a cost-effective, multi-terrain, mobile sensor platform that can capture video, audio and environmental data, while providing a visible deterrent. The data it provides can enhance outdoor surveillance, security, safety and maintenance inspections, which will help organizations meet the challenges of an ever-changing security landscape by augmenting a skilled guard force. The Sharp INTELLOS A-UGV is ideally suited for customers with expansive outdoor properties, such as manufacturing, utilities, pharmaceuticals, data centers, airports, rail yards and government facilities, all categories that A+ Technology & Security Solutions serves.
David Lewis, AVP of Sharp Robotics Business Development (SRBD), avidly supports Sharp's decision in A+. "David Antar and his A+ Technology & Security Solutions team are top-shelf security integrators. Their team's ability to differentiate between what is new in security technology versus what is 'new and necessary' sets them apart. They saw the difference years ago when Sharp first introduced them to our robot and took the journey with us to ready the marketplace. David Antar not only has the honor of being the first authorized dealer and integrator of the Sharp INTELLOS A-UGV, but he was one of a handful of people who played a role in Sharp's press conference unveiling at ASIS because of his enlightened perspective and genuine third party advocacy of the product. He is also a three-tier sponsor of the Robolliance program to foster awareness and understanding about Unmanned Ground Vehicles for the security industry."
To find out more about Sharp's robot for security, visit SharpINTELLOS.com.
To schedule a demonstration of the vehicle, contact info(at)aplustechnology(dot)com or 631-969-2600.
To foster awareness and understanding about UGVs for security, visit Robolliance.com.
About A+ Technology & Security Solutions
A+ Technology & Security Solutions, a regional systems integrator, is a proven leader in the convergence of IT, Audio, Visual, LED Lighting and Security technologies. The company is one of the largest providers of IP video surveillance into K-12 and higher education facilities throughout the New York Metropolitan area and is now expanding its services throughout the Northeast, with a focus on education, government, healthcare and commercial business markets. For more information, visit http://www.aplustechnology.com.
About Sharp Electronics Corporation
Sharp Electronics Corporation is the U.S. subsidiary of Japan's Sharp Corporation. Sharp is a worldwide developer of one-of-a-kind home entertainment products, appliances, networked multifunctional office solutions, LED lighting, and mobile communication and information tools.
For more information, visit SharpUSA.com.