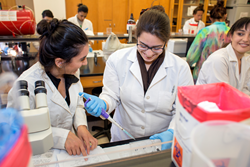 La Verne, Calif. (PRWEB) October 14, 2016
The U.S. Department of Education has awarded the University of La Verne a $6 million grant to increase the number of Latinos graduating with Science, Technology, Engineering, and Mathematics (STEM) degrees. It is the largest government grant the university has received in its 125-year history.
The five-year grant for Hispanic Serving Institutions (HSI) will fund new course development, faculty training, classroom technology, advising, and career support. It will also facilitate partnerships to give community college students throughout the region support in pursuing STEM majors at the university.
"This is a very exciting project," said Dr. Kat Weaver, associate professor of biology and co-author of the grant. "It will allow the faculty in the Natural Science Division to continue their work on designing innovative teaching methods and improving learning and retention for STEM students."
The Department of Education has projected a 17 percent increase in STEM occupations between 2010 and 2020, and there are about two science and technology job openings for every qualified job seeker. Studies have shown that diversity in STEM fields leads to better science by bringing many perspectives together in research and problem solving.
The grant's initiatives, called the "Guided Pathway to STEM Success," are expected to increase the number of Latinos and students from underserved socioeconomic backgrounds completing STEM degrees at the University of La Verne by 10 percent by 2021. Weaver expects the program to boost the number of Latino sophomores continuing in STEM majors into their junior year by 15 percent in the next five years.
But the program will help more than just Latino students.
About 2,400 students, including 600 traditional undergraduates and 200 transfer students who are Latino and low-income, as well as 1,600 students of all backgrounds and majors, will benefit from the program by 2021.
"All students taking college algebra will benefit," Weaver said. "All students taking physics will benefit. It is broad reaching across campus."
The grant provides opportunities to incorporate more of what educators call high-impact practices, which include learning communities, group-problem solving, and peer instruction – all elements that researchers say improve success in STEM courses. Assistant Professor of Mathematics Dr. Gail Tang said she uses these techniques and will also utilize technology to help students understand various concepts in subjects such as calculus.
"There exists technology that allows students to better visualize these three-dimensional objects by plotting and then interacting with them by rotating, shrinking or expanding them," Tang said.
Some elements of the program include:

A summer mathematics boot camp meant to decrease the need for remedial classes
Eight faculty and staff assigned full- or part-time to handle advising, technology integration, research, and career support. Four of these people will be new hires
Faculty training in the use of technology and research-driven strategies that help STEM students succeed
Partnerships with Southern California community colleges to assist transfer students
An HSI is defined by federal agencies as an accredited U.S. college or university with at least 25 percent Hispanic full-time student enrollment. The University of La Verne serves a population of about 44 percent Hispanic students and about 40 percent first generation college students, reflecting the diversity of the communities it serves.
About the University of La Verne
Founded in 1891 and located 35 miles east of Los Angeles, the University of La Verne is a private, nonprofit, comprehensive institution founded on four core values: lifelong learning, ethical reasoning, civic and community engagement, and diversity and inclusivity. The University of La Verne serves nearly 8,400 students at its historic La Verne campus and across 9 other California regional locations.