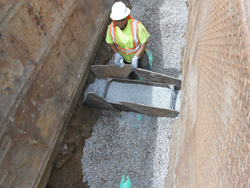 AquaBlok has been tested by the U.S. EPA and has been utilized in dozens of Superfund and other critical contamination remediation applications
Toledo, Ohio (PRWEB) October 25, 2016
AquaBlok, Ltd., a manufacturing company in Northwest Ohio, announces the broad use and application of its low-permeability materials in a wide range of sealing and geotechnical construction applications, included anti-seep collar and trench dam installations, at numerous locations across the United States.
Key advantages and benefits of using AquaBlok for these applications are as follows:

Ultra Low-Permeability Without Mechanical Compaction – Due to the aggregate content and uniform high-swell bentonite coating, in-place hydraulic conductivities are in the range of 5x10-6 to 5x10-9 cm/sec without compaction.
Remains Pliable After Hydration / No Cracking Over Time – Concrete cracks and leaks, particularly with frost or movement in the ground. AquaBlok will dry and rehydrate or freeze then thaw to form a flexible 'seal' that is permanent.
Tested and Proven in Critical Applications – AquaBlok has been tested by the U.S. EPA and has been utilized in dozens of Superfund and other critical contamination remediation applications.
Ease of Installation – AquaBlok is a dry particle that can be poured into a form at the desired thickness. No need for concrete trucks. No need to stack 50 pound bags of bentonite. Can be placed in standing water.
AquaBlok acceptance for use as anti-seep collar, trench dam, trench breaker or cut-off wall has grown rapidly over the past two years.
The following are short examples of five recent installations and approvals from states, counties and municipalities:
1. Silverthorne, Colorado – A large development in the mountains west of Denver utilized multiple truckloads of AquaBlok for installation of anti-seep collars around water and sewer piping on slopes. The photo included shows the material being installed. Prior to use, AquaBlok was evaluated by the local municipality and their professional engineering firm, AECOM.
2. Essexville, Michigan – An energy utility required anti-seep collars for an upgrade of a settling basin and overflow structure. The material was proposed by the contractor on the project and review and evaluated by the client and their project engineering firm.
3. West Norriton, Pennsylvania – A detention basin for a large commercial retail site required upgrade of an overflow structure through an embankment structure. AquaBlok's material was evaluated and approved.
4. Woodbridge, New Jersey – A large anti-seep collar was placed on a newly installed natural gas pipeline adjacent to a wetland and brownfield. The project received in-depth review from the customer, contractor and local regulatory representatives.
5. Shoreline, Washington – In order to install a large diameter outfall into the Puget Sound, King County and the local community utilized a saltwater compatible AquaBlok material to isolate the pipeline from the surrounding soils. The project required the material to be placed into standing water within a trench box.
AquaBlok provides a number of tools and technical information on their website to assist in design and calculation of material quantities needed for a particular project.
About AquaBlok, Ltd.
AquaBlok, Ltd. is a manufacturer of composite materials utilizing its patented coating and amendment approach. The company has a long history in the environmental industry and a range of products utilized in groundwater treatment and sediment remediation applications. AquaBlok utilizes its low-permeability bentonite delivery system in a range of geotechnical applications including, industrial impoundment sealing, anti-seep collars (trench dams) around piping, cut-off walls in porous soil conditions, levee and dam repair or construction. Visit aquablok.com or call 419-825-1325 for more information.