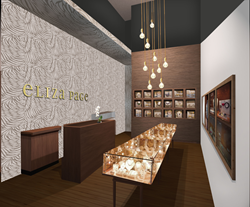 The store's reputation and loyal following has been a draw that has enabled us to win other retailers to the project.
Austin, Texas (PRWEB) October 14, 2016
Eliza Page, Austin's beloved iconic jewel box known for its carefully curated selection of local and national independent jewelry designers has announced it will be opening its second store in Austin located at The Domain Northside. The original Eliza Page has anchored the 2nd Street Shopping District since it opened in 2005. The Domain Northside Eliza Page store will open its doors just in time for holiday shoppers on November 15th, 2016.
"I picked The Domain Northside for my (second) store after very careful consideration of many retail areas in and around Austin," stated founder and store owner, Elizabeth Gibson. "While we are continuing to enjoy a thriving retail environment in Austin, The Domain developer, Endeavor has shown a real commitment to creating a showcase for the best of homegrown Austin retail stores among the many fantastic national retail brands."
According to Endeavor Principal Billy Osherow, "It was a real win for us to get Eliza Page to commit to our Northside project early on. The store's reputation and loyal following has been a draw that has enabled us to win other retailers to the project. The Austin retail market is unique, eclectic and sophisticated. We want locals and tourists to discover the best retail that the city has to offer here at Domain Northside."
The new Eliza Page will be a 400 square foot showroom featuring one-of-a-kind, independent fashion-forward fine jewelry, including wedding and special occasion jewelry, along with edited selections of the best of Eliza Page jewelry designs. The new store will debut with its best-selling Austin collections as well as exclusive designer collections that are new to the market including, Carolyn Colby (New York), TomTom (France), Fanny E (Canada), Kataoka (Japan), and Austin-based Maja Bond.
Founder and owner, Elizabeth Gibson has become synonymous with independent jewelry design. In addition to awards and recognition for Eliza Page from Austin Fashion Week (best jewelry store) and Lucky magazine (Texas Top 50 Stores), Gibson has been a popular guest speaker providing insights on the industry for audiences at Thrive Online Academy and students at the Art Institute of Austin. She has been a featured designer judge at premier events such as Art City Austin and at the Smart Jewelry Trade Show's Generation Next Designer.
Eliza Page located at The Domain Northside will be a richly designed jewel box by local design favorite, Kasey McCarty interior designer for many of Austin's most notable restaurants, retailers and spas.
Eliza Page at The Domain Northside will open its doors Tuesday, November 15th at 10:00am.
About Eliza Page
Eliza Page is an Austin original with stores in Austin's Second Street and most recently The Domain Northside in North Austin. The company has an online retail store at elizapage.com. In addition to featuring many one-of-a-kind independent jewelry designers, Eliza Page offers an extensive selection of modern bridal jewelry and special occasion rings that are handcrafted by local and nationally recognized independent artists. Eliza Page is committed to creating jewelry made with recycled metals and using diamonds and gemstones sourced from accredited conflict-free dealers. Since 2005, in store or online, Eliza Page promises a beautiful jewelry experience.