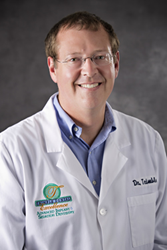 Eau Claire, WI (PRWEB) October 19, 2016
New patients with gum disease in Eau Claire, WI, are now invited to celebrate National Dental Hygiene Awareness Month by taking care of their oral health. In honor of this month, Dr. Trimble is now accepting new patients for gum disease treatment without a referral. Dr. Trimble is an accomplished and compassionate dentist who offers a variety of treatments for periodontal disease, including periodontal maintenance, osseous surgery, and scaling and root planing procedures.
Patients who have gum disease in Eau Claire, WI, are not alone. According to the Centers for Disease Control and Prevention, over 47 percent of adults aged 30 and older have periodontal disease in some form. As people age, they are more likely to develop the condition, especially if they are living below the federal poverty line and are smokers. Symptoms of gum disease can range from mild to severe, depending on how serious the condition is. Patients who have chronic bad breath, tender or bleeding gums, sensitive teeth and pain when chewing are encouraged to receive an evaluation from an experienced dentist to find out if they have periodontal disease. Dr. Trimble regularly evaluates patients for the condition and recommends treatment options that may include scaling and root planing, osseous surgery, periodontal maintenance or a combination of these services.
Patients who neglect their gum health and fail to receive treatment for their periodontal disease symptoms are more likely to experience a gradual loss of the tissues supporting the teeth. Over time, severe periodontal disease can eventually cause one or more teeth to fall out. For best results, Dr. Trimble recommends that patients visit his practice for treatment at the first sign of gum disease symptoms.
Patients who have symptoms of gum disease in Eau Claire, WI, are urged to meet with Dr. Trimble, experienced dentist, at their earliest convenience. Those who wish to schedule a consultation with Dr. Trimble can do so by calling Trimble Dental Excellence at 715-802-4360.
About the Doctor
Trimble Dental Excellence is a general practice offering personalized care for patients in Menomonie, WI. Dr. Bruce Trimble offers a variety of services, including advanced dental implants and sedation dentistry. Dr. Trimble is a graduate of the University of Minnesota and has dedicated his professional career to providing you with the best that dentistry has to offer. He is continually educating himself and his staff on the newest techniques and advances to offer you state-of-the-art, antiseptic, personalized & comfortable dental care. Dr. Trimble is a fellow of the International Congress of Oral Implantologists & the Misch International Implant Institute. He is also among the few dentists in Wisconsin who are licensed for IV sedation and has received a certificate from the Temple School of Dentistry for Surgical Oral Implantology. To learn more about the services offered at Trimble Dental Excellence, please visit their website, http://www.trimbledental.com or call (715) 802-4360 to schedule an appointment.