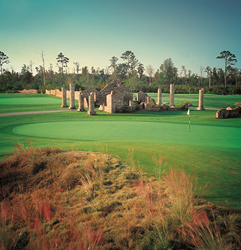 Spring golf in Myrtle Beach never disappoints.
Myrtle Beach, S.C. (PRWEB) October 14, 2016
Myrtle Beach Golf Trips is offering a cauldron of great prices for golfers who book their spring rounds during October 2016. With rounds of spring golf as low as $45 per golfer, savings can be as much as $92 on three rounds of spring golf, $82 on two rounds, and $53 on single-round rates. Myrtle Beach Golf Trips offers tee times at award-winning courses, multi-round tee time specials and golf packages at wicked-good prices on the Grand Strand. It's spooky just how much savings there is on spring golf when it's booked in October.
"Now is the time to book the best of the Grand Strand at the lowest rates possible," said Steve Mays director of marketing and sales for Founders Group International, the owner of Myrtle Beach Golf Trips. "The best tee times on our award-winning courses sell out quickly, and now is the time to lock in the best price. Spring golf in Myrtle Beach never disappoints."
Spring golf on the Grand Strand is one of the most enchanting times of the year to experience courses that range from classic designs to Tour-quality challenges, and from Lowcountry gems in Pawleys Island to Top 100 courses in Myrtle Beach.
On the south end of the Strand in Pawleys Island, you can ease into your golf vacation with a round at Tradition Golf Club, known for its creative yet straightforward design and well-protected greens. Then, soak up the beauty of the antebellum clubhouse and the 18th hole that borders an old rice plantation on the Waccamaw River at Caledonia Golf and & Fish Club in Pawleys Island. Take things up at notch at Pawleys Plantation Golf & Country Club where Jack Nicklaus carved out formidable par 4s, beautiful par 3s and memorable par 5s. A challenging layout that plays out over a salt marsh, Pawleys Plantation has received many accolades from golf's top magazines.
Golfers who want to stay in the heart of Myrtle Beach can find a friendly start to their vacation at Myrtle Beach National's West course. Its traditional layout and design offers wide fairways and large Mini Verde Bermuda greens that make it an enjoyable golf experience for players of all abilities. Next, swing away at the Heathland Course at Legends Golf Resort. Awarded 4 stars by Golf Digest, it has wide fairways and enormous greens. Follow that up with the area's ultimate risk-reward challenge at "The Gambler" at Arnold Palmer's King's North at Myrtle Beach National. The par-5 6th hole offers two landing areas off the tee. One provides a chance to reach the green in two if a well-placed drive lands in the island fairway. Or a player can choose to follow a traditional three-shot route around the lake in the right fairway.
On the north end of the Strand, River Hills Golf and Country Club is a great place to get started with its forgiving layout. It offers non-parallel fairways, rolling hills and recurring elevation changes in a course that's tailor-made for shot makers. Moving on to Barefoot Resort, the Love course incorporates the recreated ruins of an old plantation home along holes 3 to 7. Wide open fairways and generous landing areas set the stage for an unforgettable round of golf. Then, golfers can test their skills at Rivers Edge Golf Club, another Arnold Palmer championship course, where there are breathtaking views of the bluffs and tidal marshes and to take on the challenge that has earned Rivers Edge a stellar reputation as one of the area's top courses.
However a spring trip is mapped out, it's best to book now before October booking prices make like a ghost and disappear. Scare up some fun on MyrtleBeachGolfTrips.com now!
About Myrtle Beach Golf Trips
The area's premier resource for tee time bookings, Myrtle Beach Golf Trips has been putting together great golf experiences for customers since 1927, by providing access to award-winning courses, multi-round tee time specials, and golf and lodging packages at the best prices.
Owned by Founders Group International (FGI) and with the help of Golf Insider's 100 percent player-generated course ranking system, Myrtle Beach Golf Trips helps thousands of golfers plan and assemble their ideal golf itineraries. Golfers can choose from "top-100 caliber" courses Pawleys Plantation Golf & Country Club, Grande Dunes Resort Club, TPC of Myrtle Beach, King's North at Myrtle Beach National Golf Club, Pine Lakes Country Club and more than 80 other Myrtle Beach area courses.
More information about Myrtle Beach Golf Trips and Founders Group International, is available at http://www.foundersgroupinternational.com, http://www.mbn.com or MyrtleBeachGolfTrips.com.