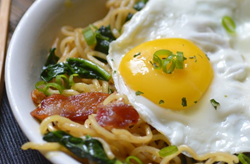 Los Angeles, CA (PRWEB) October 15, 2016
JSL Foods is excited to announce that blogger Michelle Keith from The Domestic Kitchen of Palm Springs, FL is the $1,000.00 First Place Winner in the stir fry category of the first annual Fortune Asian Noodle Blogger Recipe Challenge. Geneshchandra Mallya of Lafayette, IN took second place and Shashi Charles of Lawrenceville, GA was the third place winner.
Bloggers from across the nation were challenged to show off their culinary creativity by submitting original recipes using Fortune brand Udon, Yakisoba or Rice noodles offered by JSL Foods. After weeks of judging, Michelle Keith's Breakfast Stir Fry was the winning recipe in the stir fry category which can be seen on her blog, The Domestic Kitchen.
"There's something truly satisfying about creating a recipe in your own kitchen and then being able to share it with others," stated Wayne Nielsen, Vice President of Sales & Marketing at JSL Foods. "As we like to say, "No Rules to Stir Fry" and the bloggers really proved that to be right."
Stir Fry Winning Recipe by Michelle Keith, The Domestic Kitchen
Breakfast Stir Fry
Ingredients

1 package of Fortune Yakisoba Noodles
1 handful fresh spinach
2 slices cooked bacon, crumbled
3 TBS soy sauce
1 large egg
Instructions
1. Soften noodles by piercing pouch and microwaving for 1 minute
2. In a nonstick skillet over medium high heat, sauté the spinach and bacon until spinach is wilted.
3. Stir in the noodles and soy sauce
4. Place in a bowl
5. Fry egg and place over hot noodles.
6. Alternately, egg may be scrambled with noodles.
Second place winner, Ganeshchandra Mallya won $500.00 for her Black Pepper Stir Fried Noodles using Fortune Yakisoba Hot & Spicy Stir Fry Noodles. You can see this winning recipe on her blog, Cook with Kushi.
Third place winner, Shashi Charles won $250.00 for her Coconut Curry Stir Fry using Fortune Coconut Curry Gluten Free Rice Noodles. You can see this winning recipe on her blog, Runnin Srilankan.
JSL Foods' Fortune brand is the #1 fresh refrigerated noodle line in the United States and accounts for 79% of all category sales. You can find Fortune products in the Tofu section in supermarkets across the United States.
About JSL Foods, Inc.
Founded in 1951, JSL Foods is a third generation family owned company. Their Fortune and Twin Dragon brands are the category leader of fresh, refrigerated, pre-cooked Asian Noodles, Rice Blends and Asian Wrappers (Egg Roll, Won Ton and Gyoza). Fortune's Asian Noodle product line consists of Yakisoba, Udon and gluten free Rice Noodles. These Asian Noodles come with a natural flavored sauce packet and are available in a variety of delicious flavors such as Thai Peanut, Coconut Curry, Teriyaki and Soy Ginger. The line offer consumers a wide range of health options including Omega-3 Fortified, Non-GMO, Cholesterol-Free, 100% Natural and MSG Free. Twin Dragon Asian Wrappers are 100% Natural, Vegan, Kosher and Non-GMO. Located in Los Angeles, California, JSL Foods has built its reputation on delivering a fresh, convenient and restaurant quality Asian meal experience for consumer's home enjoyment. JSL Foods products are sold under the Fortune and Twin Dragon brands and are located in the produce department next to the Tofu section in supermarkets across the United States. JSL Foods is committed to their consumers through continuous innovation towards healthy ingredients, convenience, and value including authentic and fusion culinary recipe solutions. Contact Wayne Nielsen at 323-223-2484 or email him at wnielsen@jslfoods.com.