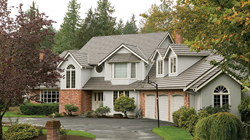 Metal Roofs are an Investment Grade option for homeowners who would rather not worry about their roof again.
St. Louis, MO (PRWEB) October 19, 2016
The demand for sustainable, eco-friendly and energy efficient home improvement materials continues to grow in North America. According to a new study conducted by Dodge Data & Analytics, the residential metal roofing industry saw a big jump in market share last year, moving from approximately 8% in 2014 to 11% in 2015. A new range of products designed for use on homes, with the added benefit of extreme durability, have resulted in continued growth for metal roofing in the residential market.
The top reasons homeowners provided in the study for why they chose a metal roof include: longevity (26%), strength/protection (22%), attractiveness (15%) and good investment/adds value (15%).
"Metal is the perfect choice for homeowners who don't want to think about their roof. For most families, a metal roof is a one-and-done purchase that provides years of eco-friendly, energy efficient protection," says Bill Hippard, executive director of the Metal Roofing Alliance.
Five Things You Need to Know About Metal Roofing

Today's metal roofs offer a variety of styles and colors to match any style of home, and can fit into any community. Metal roofing is available in traditional vertical seam profiles or can be manufactured to resemble wood shake, slate, shingles or clay tiles.
A metal roof is designed to withstand decades of abuse from all weather conditions including rain, hail, wildfires, and high winds. They also offer long term warranties, providing additional peace of mind.
Metal roofs featuring highly reflective coatings provide year-round relief from high energy costs. Many "cool" roofs even have Energy Star ratings that qualify homeowners for tax credits.
Metal roofs are NOT noisy in the rain. A properly installed investment grade metal roof has the same insulation and decking as any modern roof.
Metal roofs are environmentally friendly. Most metal roofs contain more than 25 percent recycled materials. At the end of its long life, metal roofing is also 100 percent recyclable. Traditional roofing products, such as asphalt, contribute 13 billion pounds of waste to U.S. landfills annually. Many metal roofs can also be installed over an existing roof, without tear-off and disposal.
To learn more about roofing, and see how your home would look with a new metal roof, check out the Metal Roofing Alliance website: http://www.metalroofing.com.