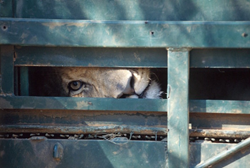 Canned hunting and predator breeding is a dark, murky world that deserves to be shut down
Oakland, CA (PRWEB) October 13, 2016
On Wednesday, October 19, 2016 at 6:30pm, Oakland Zoo welcomes the public to attend a documentary screening and Q&A with director, Bruce Young about a film that exposes the business of lion breeding farms in Africa and the canned-hunting business these 'trophy predators' are destined for.
The last in Oakland Zoo's 2016 Conservation Speaker Series, the evening will consist of a reception, screening and filmmaker presentation on the creation of the ground-breaking documentary film, (http://www.bloodlions.com). Every single day in South Africa at least two to three captive bred or tame lions are being killed in canned hunts. And hundreds more are slaughtered annually for the lion bone trade.
The Blood Lions story is a compelling call to action to have these practices stopped.
"Canned hunting and predator breeding is a dark, murky world that deserves to be shut down," Bruce Young, Director of Blood Lions.
View trailer: http://www.bloodlions.org/media/
The film follows internationally acclaimed environmental journalist and safari operator, Ian Michler, onto the breeding farms to witness the results of battery- farmed lions – a stark contrast to their wild cousins.
Aggressive farmers resent his questioning, but the highly pro table commercialization of lions is plain to see – cub petting, volunteer recruitment, lion walking, hunting, and the new lion bone trade are on the increase, and all are being justified under the guise of conservation and research.
In parallel we follow Rick Swazey, an American hunter, who volunteered his services after seeing footage of canned hunts. Rick purchases a lioness online from his home in Hawaii and then travels to South Africa to follow the path canned hunters do.
Annually, over 800 captive, hand-reared lions are shot in South Africa – mostly by international hunters – fuelling a multimillion-dollar industry.
In South Africa there are currently between 6 000 and 8 000 predators in captivity, the vast majority of them lions. Most live in appalling conditions with inadequate protocols in place to protect them or regulate either their welfare or the genetic integrity of their bloodlines. The breeders of these animals claim they are involved in conservation, educational and research initiatives and that the captive bred population will be the saviour of wild lions.
We then hear from recognized lion ecologists, conservationists and animal welfare experts that almost all these claims are in fact far from the truth.
Cubs are taken away from their mothers just days after birth to force the lionesses into intensely repetitive reproductive cycles. And the cubs that get churned out are then used in a variety of income streams from petting and "walking with lions" facilities to luring unsuspecting volunteers, who pay large sums of money, as workers on the facilities.
Once they reach adulthood, many lionesses are shot for their bones to be shipped to Asia as supplements to the rapidly burgeoning "tiger wine" and "tiger cake" industries. The film is a compelling call to action and shows how you can get involved in a global campaign to stop lions being bred for the bullet.
"I am profoundly saddened by the practice of canned lion hunting. It is a relief that this film was made and an honor to be screening it. African lions made some progress at the recent CITES meetings in Johannesburg this month, but the public and those in power need further connection and understanding in order to ultimately end the international trade in lions or lion parts. For African lions to be shifted from Appendix II to Appendix I, this film and others must be made, seen and acted upon," said Amy Gotliffe, Conservation Director at Oakland Zoo.
The Conservation Speaker Series will take place in Oakland Zoo's Zimmer Auditorium, located at the lower entrance of the Zoo. Parking is free and the admission price for the evening's speaker presentations is $12.00 - $20.00 per person (sliding scale). Tickets can be purchased through Eventbrite.
For additional information about Oakland Zoo's Conservation Speaker Series, please contact Amy Gotliffe, Conservation Director, at amy(at)oaklandzoo.org
ABOUT THE WRITER AND DIRECTOR, BRUCE YOUNG: Blood Lions is his directorial debut. Drawn by the plight of the lions and our relationship with wild animals, this is the perfect project for Bruce to bring his storytelling skills to the fore. Prior to this, Bruce spent 10 years working as an actor in SA and the USA, appearing in Lethal Weapon 2 opposite Mel Gibson. He then worked on the production end of the business in Los Angeles for a number of years before returning to SA to co-start AFDA, SA's biggest lm and drama school. During this time he also established himself as a local screenwriter and has written scripts for a broad range of lm genres and styles including feature lms, television dramas, sitcoms and natural history documentaries. Highlights include head-writing on MNet's League Of Glory, writing the script for the ROSCAR award- winning Kalahari Tails and being a member of the team that won a SAFTA writing award for the series Sokhulu & Partners.
ABOUT OAKLAND ZOO
The Bay Area's award-winning Oakland Zoo is home to more than 660 native and exotic animals. The Zoo offers many educational programs and kid's activities perfect for science field trips, family day trips and exciting birthday parties. Oakland Zoo is dedicated to the humane treatment of animals and wildlife conservation onsite and worldwide; with 25¢ from each ticket donated to support conservation partners and programs around the world. The California Trail, a transformational project that more than doubles our size, opens in 2018, and will further our commitment to animal care, education, and conservation with a focus on this state's remarkable native wildlife. Nestled in the Oakland Hills, in 500-acre Knowland Park, the Zoo is located at 9777 Golf Links Road, off Highway 580. The East Bay Zoological Society (Oakland Zoo) is a nonprofit 501(c)3 organization supported in part by members, contributions, the City of Oakland and the East Bay Regional Parks. For more information, go to: http://www.oaklandzoo.org