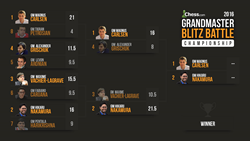 "I am excited to play in this event and prove I am the best online player ever," said Nakamura.
Palo Alto, Calif. (PRWEB) October 14, 2016
The current world chess champion, Magnus Carlsen, will play the four-time U.S. champion Hikaru Nakamura in the Chess.com Grandmaster Blitz Battle Championship on Oct. 27.
The match, which has been anticipated by chess players for a decade, will finally decide who is the strongest speed chess player in the world and perhaps of all time.
Carlsen, the highest-rated chess player in history, will defend his classical world championship this November in New York. First, though, he must face his rival Nakamura in the biggest-ever online blitz and bullet championship on Chess.com.
The match will be a three-hour marathon of speed chess, with dozens of games played in front of an expected record-breaking online audience. Viewership for semifinal matches featuring Carlsen and Nakamura vaulted chess ahead of games like Minecraft and Call of Duty on the streaming site Twitch.
Carlsen and Nakamura will play in front of webcams for the duration of the match, giving viewers access to the players' expressions and emotions as critical moves are played on the board.
Both players have already won thousands of dollars in the GM Blitz Battle tournament, and $11,000 more is on the line on Oct. 27. The total prize pool of the GM Blitz Battle Championship is $40,000. Carlsen and Nakamura reached the GM Blitz Battle final by advancing past six more of the world's top chess players in a bracket-style tournament this year.
Chess.com will broadcast the championship with live grandmaster commentary on Chess.com/TV and Twitch.tv/chess at 10 a.m. Pacific time on Oct. 27.
"I am excited to play in this event and prove I am the best online player ever," said Nakamura. "Chess.com is my home turf. I am super excited about the final against Magnus, and I hope it will be a thrilling match for the fans."
The world champion was more reserved when reached for comment about the final, but did hint that he was as confident in the speed chess format as he is in classical chess. "I like blitz," said Carlsen.
"This is a historic event for millions of chess fans eager to see the world's best players go head-to-head in online blitz and bullet," said Chess.com CEO Erik Allebest. "This is the event that chess players have been waiting for since the advent of Internet chess."
High-resolution images of the full championship bracket and event logo are available for media use:
http://www.Chess.com/bracket
http://www.Chess.com/championship
Chess.com is the world's largest chess website, with 15 million members who have played more than 1.3 billion chess games.
Contact:
International Master Daniel Rensch
Vice President of Content and Professional Relations, Chess.com
e-mail: Danny(at)Chess.com
phone: (602) 618-2045
###