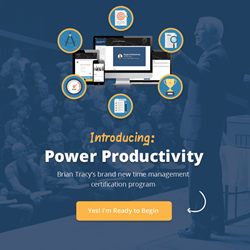 San Diego, CA (PRWEB) October 14, 2016
Brian Tracy, CEO of Brian Tracy International and Best-Selling Author of more than 75 books, announced the release of his newest digital training course and certification program, Power Productivity, during a live online training Wednesday afternoon.
Tracy first established himself as a time management expert after the release of his best-selling book "Eat That Frog! 21 Great Ways to Stop Procrastinating and Get More Done in Less Time," which has now sold millions of copies worldwide and has been translated into 42 languages.
The information presented in his new training course will build upon the timeless principles laid out in "Eat That Frog!" and will teach individuals how to stop procrastinating, become more productive, and maximize their time so they achieve success in their personal and professional endeavors.
Participants of the course will receive access to 12 guided productivity lessons (with worksheets and quizzes) and 1-click support to help with any questions, in addition to gaining admittance to an exclusive "Power Productivity Mastermind" Facebook group where they can engage with other participants, ask questions, and demonstrate their expertise on the topic.
For the first time ever, Tracy will also be giving participants the option to complete a final assessment once the course is completed to become a certified "Brian Tracy Productivity Expert" so they can help others to take control of their time and accomplish their goals.
According to Tracy, "This program is for people struggling to get things done, no matter how hard they work and want to know the reason why. I've taken over 30 years of my personal experience with productivity and research on the subject and delivered it in a way that can help anyone to be more efficient and successful."
For more information on Brian Tracy's Power Productivity Digital Course and Certification Program, visit: http://www.briantracy.com/productivity-course
About Brian Tracy
Brian Tracy is Chairman and CEO of Brian Tracy International, a company specializing in the training and development of individuals and organizations. Brian's goal is to help people achieve their personal and business goals faster and easier than they ever imagined. Brian Tracy has consulted for more than 1,000 companies and addressed more than 5,000,000 people in 5,000 talks and seminars throughout the US, Canada and 79 other countries worldwide. As a keynote speaker and seminar leader, he addresses more than 250,000 people each year.
For more information, visit: http://www.briantracy.com.