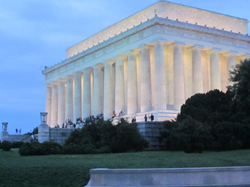 Celebrate the glory of the nation's capital
San Francisco, CA (PRWEB) October 14, 2016
While the Presidential election may be taking over the headlines, it's important to remember that the nation's political hub of Washington DC is a graceful, funky city full of pleasant surprises (not just pundits): a dizzying array of museums and galleries, countless restaurants, food trucks, wine bars and refurbished historic taverns, and a hopping music scene. Nevertheless, 2016 is a special year to check out the iconic attractions that tell the story of America's political history and the team at Viator, a TripAdvisor company and the leading resource for tours and activities worldwide, has compiled a list of several favorites to celebrate the glory of the nation's capital:
1. Explore Washington DC's Many Monuments and Memorials. Visit DC's famous sites on a private, four-hour tour led by an expert guide, including the White House, Washington Monument, Lincoln Memorial, Jefferson Memorial, United States Capitol and more.
2. Visit George Washington's Virginia home and Arlington Cemetery. Viator's Washington DC Supersaver: Mount Vernon and Arlington National Cemetery Tour visits George Washington's beloved plantation home before stopping at Arlington National Cemetery for the Changing of the Guard, the Tomb of the Unknowns, the Marine Corps War Memorial, the John F. Kennedy Eternal Flame and more.
3. Walk in Lincoln's Footsteps. Honor the legacy of President Lincoln on a historian-led private pedicab tour of Lincoln-related sites and see different spots of his presidency, assassination and legacy throughout diverse DC neighborhoods. Then take a memorable day trip to Gettysburg to explore some of its deepest historical roots before visiting the restored home of George Washington Shriver and the Shriver House Museum.
4. Take a Night Tour of DC's Monuments. DC doesn't stop when the sun sets, and touring DC at night means visitors can see the city at its most atmospheric while escaping the daytime crowds. The Moonlight Night Tour by Trolley rides along the same streets the presidents traveled and provides stunning views of more than 100 floodlit landmarks and monuments, including the Thomas Jefferson and Martin Luther King, Jr. Memorials, the Franklin Delano Roosevelt Memorial, the Lincoln Memorial, and the White House.
5. Take a Sightseeing Cruise on "the Nation's River." George Washington was born along its banks and all of DC lies within its watershed. Visitors can enjoy the Potomoc and its rich ties to American history on Viator's Washington DC Fall Foliage Day Cruise, offering a front row seat to nature's fiery beauty. Year-round, daytime duck tours and nighttime cruises lend a whole new perspective on Washington's iconic monuments.
6. Learn about DC's Past. DC is the keeper of America's history, and Viator's VIP Best of DC leaves no stone unturned. The tour starts at the National Archives with an exclusive look at the original Bill of Rights, Declaration of Independence and US Constitution. On a visit to the Capitol Building with priority entrance, see where these centuries-old documents still affect us today.
7. Visit the National Gallery of Art. The National Gallery of Art, established in 1937 for the American people by a joint resolution of the United States Congress, is a massive collection of more than 110,000 pieces housed in two buildings and a sculpture garden. The best way to see the masterpieces is on a small-group walking tour led by an art historian, which provides a unique perspective on the art, as well as an understanding of how this collection has evolved over 70 years.
For information on Viator's DC tours and thousands of insider experiences all over the world as well as the latest deals, promotions, contests and news, visit http://www.viator.com.
About Viator
Viator is the leading global tours and activities provider for travelers, delivering online and mobile access to thousands of pre-vetted travel experiences including tours, activities and attractions in more than 2,400 destinations worldwide. Viator's team travel insiders delivers the scoop on the best things to do wherever you travel including more than 1 million verified traveller reviews and photos, exclusive videos and expert travel tips; along with the assurance provided by 24/7 in-house customer support and global low-price guarantee. In addition to the flagship site – Viator.com – travelers can book in advance or at the last minute via the Viator Tours & Activities App, and 11 local-language sites for European, Latin American and Asian travelers. Viator also provides tours and activities to more than 3,000 affiliate partners including some of the world's top airlines, hotels and online travel agencies.
Founded in 1995 and acquired by TripAdvisor (NASDAQ: TRIP) in 2014, Viator is headquartered in San Francisco with regional offices in Sydney, London and Las Vegas. Travelers can like, follow and find Viator on Facebook, Google+, Instagram, Pinterest, Twitter and YouTube and explore and book experiences at http://www.viator.com.